Gluck Games Casinos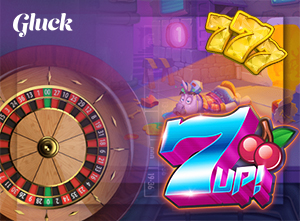 Most German game producers tend to come with long traditions with classic slots and only with a generic interest in more modern gaming. Gluck is different, in that it is clearly aimed at the mobile markets, and their games certainly embody everything (and more) you would expect from modern slots. They have also given their own twists and spins to these slots, making sure that they are surprising and memorable.
The company has been operational since 2015, with its headquarters located in Berlin. The company produces more than just slots, with several lottery games also found on its list. Recently they also merged with Gamevy to provide even more players with a taste of what true modern casino gaming can be all about.
The Glück Group - what is it?
Gluck Games and Gamevy combined their strengths in 2017, by offering cross-platform products. This worked so well for both companies that one year later they decided to take the next step, completely merging the two gaming startups into one bigger company. The Gluck Group.
Though both have quite a formidable set of slots, their real strength lies in other products. Lotteries, scratch cards, instant win games, bingo, keno and even skill games are now available in unprecedented numbers. One could even say that by combining their portfolios they have become the number one producer in this regard.
A way to make your games unique
Well, obviously the unique instant win games alone make the company stand out. But in addition, Gluck has a very distinctive style and way of producing video slots. How does a game titled Vomiting Unicorn sound? Interesting? Strange? Unique? Perhaps humorous? It's the latter that they have paid a lot of attention to, making sure that you can have a few chuckles as you spin the reels.
The above alone wouldn't mean anything…
…if it wasn't done in a style that encompasses the traditional German view on quality. The graphics are excellent, the audio effects complement the theme, and the games come with a variety of special features that keep the spins interesting. Big chances and big wins are there as well.
Licenses and other information
There isn't much license information available on the company. We do know that they operate in several different jurisdictions, but as they simply run games they do not require the normal licenses that are meant for casinos. However, should you head over to their homepage you can find all sort of information about their games readily available.
Useful links