Blacklisted Online Casinos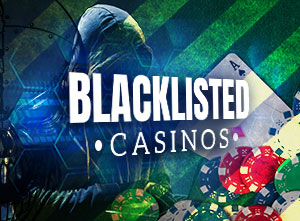 There are well over a thousand casinos online. Most conduct their business ethically. Some end up with a bad reputation over just a few misunderstandings. Others are plain fraudulent. The best way to avoid fraudulent casinos is to stick with the ones we list throughout the Games and Casino website. Those online casino, online poker, and online bingo sites are carefully chosen by reputation and reports from other players.
It is a lot easier to pick out the good ones than to prove the bad ones are crooked. So do yourself a favor and choose from the many honest and highly rated casino sites listed by GamesandCasino.
The following is a list of casinos that have been declared blacklisted or rogued by other online casino sites as well. Unfortunately, there is no concrete place where all the information that got these casinos blacklisted can be found. We present these for your convenience, so you do not have to surf all over the web to pull this information together.
Be aware that all of this is hear-say and simply collected off the internet and not an official, court-compiled list. The evaluations are based on complaints by vocal players from various websites. Some are based on research into licensing and related legal issues.
Recommended Casinos
Blacklisted Casinos
Pamper, AC Casino, Moneystorm, betDNA
In the past and up until now players have experienced unsatisfactory customer support and slow and delayed payments of winnings. In July 2016 Latest Casino Bonuses also discovered that Pamper and its sister brands had unlicensed and fake Aristocrat, NetEnt, Novomatic, Playtech and Quickspin games. Read all about it here.
Sin City Casino
Recently removed from the Blacklist after player complaints have been resolved.
Source: Sincity voids 7000 euro on bogus rule
Cosmik Casino
Shady business practices have been determined including hosting unlicensed Net Entertainment games. It also has unlicensed Novomatic games that have been reported to the Casino for removal.
Source: Cosmik Casino and Deuce Club Representative
The Palace Group/Buffalo Partners
JackpotCity Casino
Mummys Gold
River Belle Casino
Ruby Fortune Casino
Gaming Club Casino
Spin Palace Casino
Cabaret Club Casino
Casino Epoca
Lucky Nugget Casino
This group of casinos should strictly be avoided due to unethical business practice associated with affiliates and customers. Non-payment issues to partnerships as well as changing the Terms and Conditions of Casino rules has been an ongoing concern with Buffalo Partners Group.
Affiliate Club is not blacklisted anymore!
Gamesandcasino.com removes rogue status from online casino Casino Club and associated properties, as well as its marketing arm Affiliate Club.
Affiliate Club, the marketing arm, had introduced a term to their contract that gave Affiliate Club the right to stop all payments of monies earned should the affiliate cease to promote the property.
This new term would have crippled the ability of affiliates to respond to player complaints, since they would have lost everything they had earned.
However, Affiliate Club has now removed this term and their T&Cs are fine. Games and Casino is herewith removing Affiliate Club, CasinoClub, Casino Club Poker, Poker Kings and Slots Club from the blacklist.
Grand Prive Casinos are blacklisted!
Do not play at Casino Grand Bay, Bella Vegas, Lake Palace, Roadhouse Reels, Jupiter Club, Fortune Junction, Jackpot Wheel and Villa Fortuna.
Learn more on the GrandPrive Blacklisted page.
The following casinos appear to be going through the process of arranging for pay outs, but the payments never arrive and communication breaks down.
We advise extreme caution:
Mightyslots.com
Realvegasonline.com
99slotmachines.com
Plentyjackpots.com
Slotnuts.com
Mightyslots.biz
Realvegasonline.biz
99slotmachines.biz
Plentyjackpots.biz
Slotnuts.biz
Casino Pays is Blacklisted!
These casinos are spamdexing all the search engines. To be seen everywhere are the rogued Clubdice casino, the blacklisted Carnival casino and the rogued New York and USA casinos as well as the blacklisted CDpoker. They are spamming the search engines in exactly the same way people who sell Viagra spam your mail.
This is totally, unethical, forbidden by the search engines and must be very annoying to people looking for real information.
The rogued CasinoPays is even conducting competitons with prizes for Search Engine Spammers!
Read more here: Casino Pays Rogue Casinos.
Absolute Poker
Absolute Poker has had a couple of huge cheating scandals. They seem to have been run in a decent manner, and if it wasn't for the way they handled the cheating we would have continued to carry them.
Atlantic Lounge Casino (RTG)
Extreme warning - This casino's owner has disappeared and there is no contact. Stay away!
Atlantic Vegas Casino
This is not a licenced casino and who knows what the software is. Since it is unlicenced and using unknown software, we recommend you stay away.
BeAffiliates Group (Grand Virtual)
Affiliates say they never make money anymore because BeAffiliates are not paying anyone but pennies. Since the sale, it's a loss everytime anyone clicks on the affiliate-linked sites and a lot of money is lost.
The following properties sold to BeAffiliates…
Betclic Casino
Everest Casino
Everest Poker
Expekt Casino
Imperial Casino
Furthermore, BeAffiliates have been adding several retroactive changes. Meaning, if you don't send them enough players they can close your account, any time… which they now have done for some affiliates—after previous years having sent many players to Expekt, for example.
This may also be true for their other properties, i.e. online poker, mobile, and others.
Crystal Palace Group (RTG)
American Circus Casino
American Grand Casino
Americas Online Casino.com
Casino Peru
Cleopatras Casino
Crystal Palace Casino
Club Mardi Gras
Club Regal Casino
Golden Nile Casino
High Rollers Lounge
Jackpot Kings Casino
Jackpot Cash Casino
Lucky Coin Casino
Lucky pyramid casino
Powerbet
Royal Circus Casino
Silver Sands Casino
Vegas Frontier
Vegas Riches
Also appearing as:
Silver Oak Casino
CaptainJack Casino
CatsEye Casino
GoldStream Casino
LuckyPalm Casino
PharaohsGold Casino
Planet7 Casino
Ringmaster Casino
RoyalAce Casino
These guys have a reputation for giving huge bonuses which make it almost impossible to fulfill the wagering requirements, so you can't withdraw. Should you get close to withdrawing, you get another bonus that will put you in the hole again. If you should be lucky enough to end up with winnings anyway, they have a reputation for just not paying the winnings. Stay away!
GoldVIPCasino (RTG)
This casino spams, employs search engine cheats (blackhat webmasters) and is rude as heck to players and people who complain about spam. We simply won't deal with such dodgy outfits and neither should you.
Casinova Software:
Slots Alley
Casino Onliner
Casino Onliner
Lucknrollcasino.com
Lucky Traffic
Lucky Trump
Lucky Trump Casino
Magic Trump
Magic Trump Casino
Popular Casino Group
Trump Casino Group
Fair Gaming Labs Watchdog site
Gamblersonnet Portal
This software has glitches - in favor of the casino. Don't play on rigged software!
Maxima (Playtech)
These guys seem to be changing the rules after the game - you can play your bonus just the way you were told to when you got it, but when you want to cash out they tell you the rules are different. And low and behold, they changed them while you played.
Don't play at casinos that change the horse in the middle of the race!
Ministering Angel Casino (Proprietary Software)
What? What kind of name is that? And the software looks shoddy and plays awful. And they copy pages from other casinos to theirs.
This looks like bad software to me… Don't play shoddy software.
Naked Poker (CyberArts)
These guys don't seem to want to pay for advertising they purchased. That's a bad omen.
Don't play there, if they cheat others, they may well cheat you too.
Rocco Casino (proprietary software)
Another casino with weird software that is rigged.
If it looks and plays weird, don't play there.
Sunny group (Cytech)
Casino Fortune
Mapau Casino
Miami Beach Casino
Goldgate Casino
Poker Show
Mapau Bingo
These casinos have lots of non-payment complaints. Just say no!
Sunshine Bingo (Parlay)
Nobody home if you want to get paid… It's a shame, too, but don't risk it.
Tajmahal Palace Casino
What software is this? Who knows? I don't.
In any case, they don't pay players their winnngs.
Stay away from the great unknown!
Top speed Poker (Dynamic Gaming Systems)
The web is buzzing with reports of non payment to winners.
Vegas24 (iGaming Software)
This place has no licence and some really weird wagering requirements.
They have to answer to no one, and they don't.
Virtual Casino Group (RTG)
The Virtual Casino
Cirrus Casino
Dreams Casino
Prism Casino
Cool Cat Casino
Palace of Chance
Club Player
Vip Lounge
Bet Royal Casino
SlotsofVegas.com
Wild Vegas Casino
They use the huge bonus trick - keep you knee deep in bonuses, making sure there are always wagering requiremnts to be fulfilled and you can't cash out.
Think you can still win? It's remotely possible, but then - they don't pay!
Winner333 casino (Global Power Gaming?)
Possibly related
Bet-empire.com
Gio-models.com
Gk-holdings.com
Igambling-guide.com
Mentorgaming.com
Winnerace.com
Weird, faulty software, and they don't seem to pay players.
Start Your Own Casino (proprietary)
Start Your Casino.com
Fivestar-casino.com
Gamblingadz.com
Ixamusements.com
ixcasino.com
Ixentertainmentcorp.com
Joker-club.com
Treasures-island.net
Xraycasino.net
Zexcasino.com
Run, run! They manipulate whether you win or not from the backend. They set it to make a certain profit and so you are doomed from the start.
Brandy Casino (Playtech)
Spammers. We don't like spammers.
Futurebet Software
Inter-x-casino
Empire casino
Vegas24 Casino
Fox Gambling.com
Lucky Hog
Game Play
Advanced Gaming
Revolutionary Poker
Pure Poker
oddsmaker
and many, many others.
These are very questionable, usually way underfunded and unable and unwilling to pay winnings.
Don't walk, run!
Kiwi Casino (playtech)
Kiwi Poker
Kiwi Bingo
Tiki Bingo
Blackpool Bingo
FastWin Casino
Used to be great and then got sold. Now they don't pay.
Hype, Inchilli (hype gaming)
They just collapsed. No one knows why, really, but it sounds like internal fighting.
The result - no one is getting paid.
Stay away!
Goldbetting.com (Wager21)
LadyDream.com
PlayersVegas.com
CasinoLuckyDog.com
DiamondGal.com
GrandCasino.com
TopLineBingo.com
Bet-Search.com
EazyPay.com
There are some strange screenshots circulating, showing faulty software. I wouldn't play there.
888 is NO LONGER on probation
Gamesandcasino is pleased to announce that 888 Casino-on-Net appears to have rectified all the problems that landed them on the blacklist. We feel free to recommend the casino again.
However, due to the current legal situation, 888 is not accepting any US players at this time. This also extends to the poker room Pacific Poker. Both the casino and poker room have been online for a very long time and are well run and well organized.
The problem that resulted in the blacklisting was solely a marketing issue, which has now been completely resolved. So, if you are not a US citizen, we can endorse your patronage of the 888 properties again.
Not Recommended
The following Casinos are still blacklisted but are now under new ownership or management or are otherwise trying to redeem themselves. I am not removing them from the blacklist, and I cannot recommend them yet.
If you play there, please proceed with caution. If you have any trouble, please let me know at domnique @ thegoodluckcharm.com. If you are happy, please let me know that too. These casinos are trying to prove that they are reliable and solid now, and they have shown me some evidence that they are on the right path.
These casinos are on probation
IGS Casinos
The Casinomeister rogued IGS casinos and I am following suit.
IGS is a cheap software that is being sold freely to anyone who wants it.
That is really bad news since there are lots of owners who do not have the resources to pay winners. Underfunded casinos are big trouble. They tend to have bad or nonexistant service. And they often go broke.
If the software company were ready to step in and, in order to protect it's reputation, took care of such problems, that would still be acceptable.
But that does not appear to be happening here.
There are numerous player complaints that emerged over time, and they are not being taken care of.
For these reasons I agree with Casinomeister and blacklist the following IGS Casinos:
www.5percentjuice.com
www.cybernetcasino.com
www.empress-casino.com
www.exclamationpoints000casino.com
www.gamblingsaloon.com
www.golddoorcasino.com
www.goldenspadepoker.com
www.goodbetcasino.com
www.interactivegaming.com
www.interactivegamingsystems.com
www.planetrockcasino.com
www.playercenter.com
www.playerscove.com
www.pokerpool.com
www.pressaid.com
www.wagerbig.com
Added to the blacklist for non payment of player winnings:
African Palace
Indio Casino
Assorted Software
Rochester Casino
1cnp Casino
Arcada Casino
Black Widow Casino
Bringmeluck Casino
Casino4aces
Casinobar
Casinoonair
Casino Onliner
Casino Royal Club
Crazy Luck
Destination Poker
Dice of Fire
Europlay Casino
Fivestar-casino
Goldbetting Casino
Grand Banks Casino
ixcasino
Joker-club
Xraycasino.net
Largo Casino
Luckydog Sports
Lucknrollcasino
Lucky Trump
Lucknrollcasino
Magic Trump Casino
Players Vegas
Plazawin
Rialto Casino
Royal Dutch Casino
Roman Casino
Slots Alley
Sterlinghouse Casino
Trump Casino Group
Winbig21
Xraycasino
Zexcasino
Questionable software types
COA World Entertainment
Casinova Software
Elka Systems Software
Start-your-casino.com
Gamblingsoftware.com sites
Video poker can be set to payout fixed percentages that are not reflected in the payout tables. Multiple complaints of non-payment by players:
0 Online Casino
Abyss Casino
Alps Casino
Big Shots Casino
Casino 4 Turks
Casino Brio
Casino Plaza
Cinderella's Casino
Code Casino
CyberBet Casino
E-Vegas Online
Excelsior Casino
Fashion Casino
Game Time Casino
Golden Coast Casino
Golden Payouts Casino
Living Casino
Lucky Dogs Casino
Lucky Win Casino
Monte Casino
Only Winners Casino
Palm Tree Casino
Picadilly-Casino
PitBoss Casino
PlaceMyBet.net
Prince Monaco Casino
Pyramid Palace Casino
Roman Palace Casino
Supreme Casino
TriviaCasino.com
Vegas Grand
World Class Casino
Nuttz.com (Gamblingsoftware.com poker site)
Bugsy Online Casino
Casino Bellissimo
Go-Casino
Casino Mystique
Crazy Horse Online Casino
Easy Rider Casino
Aristocrat Casino
Steamboat Casino
L'oasis
Lucky Charm Online Casino
Online Vegas
Grand Prix Online Casino
Clock Media
Admitted that early versions of their software had switches programmed in to cheat; admitted lack of control over programmer who stole player list
Cyberclubcasino
Casino Depot
Gold Nugget
Merlin's Magic Castle Online Casino
Abracadabra Casino
Kosher Casino
Casino Gold
Ice Palace Casino
Premiere Online Casino
Ramses Valley of The Kings
Grand Online Casino
Tahiti Club Casino
Pacific Princess
Vegas Web Casino
Sultan Casino
Rolling Stone Casino
Lucky Star Casino
Palace Online Casino
Captain Casino
Casino Adventure
Golden Dragon Online Casino
Manhattan Casino
Sir Gambalot Online Casino
Arizona Sands Casino
The Jazz Casino
Sunset Online Casino
MGM Inc.software
Which can be set to exclude generating certain hands of video poker In an independent study of this software one has come to the conclusion that the games offered by this company are not random in nature.
Moonpalace Casino
Transnet Casino
Lazarus Casino
vinocasino
Master Blackjack
Casimodo Palace
axelcasino.com
Vegas Action
Mgm Palace
East Side
Casino XO
Baobab
Elka Systems
Customer denied full winnings because the game results were "not random enough"; web site copied from other casino web sites testimonials for games they did not offer; games violate international copyrights; misrepresented as licensed in Antigua; software written in Russia.
Brilliant Casino
Netgaming
Own Casino
cashforclicks.com
Natural Casino
casinoxclub.com
cometothecasino.com
Flyinghighcasino.com
Gizapyramidcasino.com
Epochcasino.com
Cometothecasino.com
CasinoLove.com
Gold-chips.com
Casinoxclub.com
Netgaming.com
Meridiencasinos.com
8drawbingo.com
AnimeCasino.com
AvatarCasino.com
CasinoEarth.com
VirtualIslandCasino.com
JazzyCasino.com
Unified Gaming
Sites that have denied winnings using "Robot" excuse
Gambling Stadium
Golden Wager Casino
Vegas Palace Casino
Aloha Casino
Unified Gaming Site that used unauthorized awards and membership seals AND Account details of over 50 players, including credit card details, posted on Russian site for at least three days because of security breach. CSR tells players not to bother canceling credit card, offers bonus on future deposits, assures players they will prosecute fraudulent charges. Not that they have any way of detecting such charges or prosecuting fraudulent use in Russia!
The Luckys Group
Non payment of winning
10bestgambling.com
1racingcasino.com
25bestgambling.com
alucky-online-casino.com
at-1st-online-gambling-and-sports-betting-casino.com
best-internet-gaming.com
best-online-casinos.com
best-onlinecasinos.com
best-sports-betting.com
bestbetsportsbook.com
betjunction.com
bettingpalace.com
blackjack-online-casino-sportsbook.com
blackmarlincasino.net
blkjack.com
blkjackcasino.com
casino-playland.com
casino-sales.com
casino-sportsbook.com
casinonyny.com
casinoparis.net
chgocasino.net
chicagobetting.com
doubleacescasino.com
dueceswild.com
e-intertainment.com
galaxybet.com
gamblingtop10.com
getacasino.com
getyourcasino.com
golden-aces.com
goldenaces.com
highroll.com
letsplayblackjack.com
luckstation.com
luckstop.com
lucky-blackjack-online-casino.com
luckys-casino.com
luckys-gambling-site.com
luckys-online-casino-sportsbook.com
luckys-online-gambling.com
luckys-online-sportsbook.com
luckys-sports-betting.com
luckys-sportsbook.com
luckyscasino.com
luckyscasino.net
luckyscasinos.com
luckyslivecasino.com
luckysportsbook.com
luckysportsbook.net
luckyspremiercasino.com
luckysvirtualcasino.com
mummyscasino.com
nflcasino.net
nflsportsbook.net
number1sportsbook.com
nylivecasino.com
nynycasino.net
Online-Sportsbook
Pharoahs Casino
Playerz Casino
Playoff Sportsbook
Rated Best Casino
Real Vegas Casino
Rolling High
Sand Dune Casino
Sand Sportsbook
Sbeach Casino
Southernbelle Casino
Sphinx Sportsbook
Sportsbook-Sales
Stardice
Straight Aces
The Gamblr
Top Online Casino
Total Bets
Turban Casino
Voted Best Casinos
Wgaming
Wild Aces
Wrld Casino
RTG Sites
That have refused to pay big winners, share databases, locked out Danes but did not refund deposits of losers:
Five Roses Casino
Casino Extreme
Casino Heat
Ruby Dragon Casino
Golden Comps
Magic Oasis
Vegas Strip Casinos
Gaminglogix
Did not respond to inquiries from several webmasters and mediators after Arcada casino denied a winner of their Keno jackpot.
newcitycasino.com
kingsfull.com
lucky-winners.com
arcadacasino.com
ElDuce Casino
Automaticbet.com
autosportsbook.com
Casinoelduce.com
silvervegas.com
Opa "Not recommended" casino's
2flys Casino
0 Online Casino
8drawbingo
10bestgambling.com
1racingcasino.com
25bestgambling.com
Other "Do not play at"casinos
Gamblers Palace
Simple Net Bet
Skytower
Casino VR
Casino White List
Please also check our whitelist
Resources
Visit these quality portals to review their list of Blacklisted Casino Lists