Spinmatic Casinos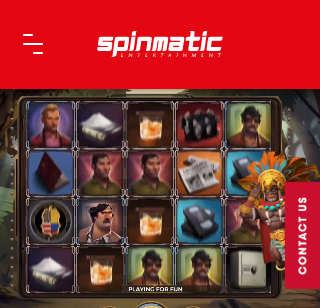 Spinmatic is situated right at the main hub of online gaming, in the island-nation of Malta. The company seems to have started operating in 2015, but lists 2017 as the date it was established. The latter is probably the date the company started dishing out games beyond prototype-stage. They have quickly gained ground in new and established online casinos alike, which is not a surprise given the quality of their games.
Spinmatic has a very frantic release schedule, though this seems to have no effect on the general quality of their games. Exclusive games and bespoke development play a large part in this, with only a part of the games released to all operators. So far the company has only produced slots. As far as we know, this is not about to change any time soon.
Multiplatform support and HTML5
A modern look needs to come with a modern interface, which is exactly the case with Spinmatic slots. Their slots share the same interface, which simply means that you will know where to find the buttons for settings, paytables, help, and other information. You can also, for example, click on any symbol on any game and you will automatically see the payout information. Little advances like these are what keeps the company ahead of the competition.
Enjoy great graphics through visuals
The graphics team over at Spinmatic is skilled enough to challenge any other company out there. From one slot to the next, they stay on top of their game and produce engaging animations that sweep the reels into action. The graphics are always on topic, even if most of the time this includes playing card ranks.
The look is quite beautiful both on mobile and desktop devices. Though we do have to admit that all this content and detail is a bit heavy, which means that you might have to wait for just a few seconds more as the slot loads. Nothing too heavy though, and always worth the wait.
...but that's not all of the attraction
Classic slots, jackpot games, themes from fact to fiction, from history to entertainment. There's a lot beyond the audiovisual attraction that makes the game extremely interesting. Though there is no deep story, as there never is with a slot, the slots go just a tad bit farther than what your average game would. Or perhaps that's what it simply looks like because of the 3D graphics.
Not each and every game they produce is going to be a hit, but they all do seem to have their own audience. This tells of their ability to produce games for very diverse groups. Mainly this is achieved by mixing all that we have been writing about here, giving it a few spins, and calling the creative chaos Spinmatic.
Casino Reviews
Andromeda Casino

225% UP TO

€1000

+ 50 free spins

New Customer Offer. T&C's Apply. 18+. Plus 50 Free Spns. Minimum deposit: 30 €. Max bet: 10 €. Bonus is valid: 1 time for new players only for first 5 deposits. Free Spins are valid only for one particular slot. Excluded Slot Games For Any Bonus Wagering: See website for list.

Rating