Astro Pug
Type:

Video slots

Reels:

8

Paylines:

1296

Payout Percent:

95.7282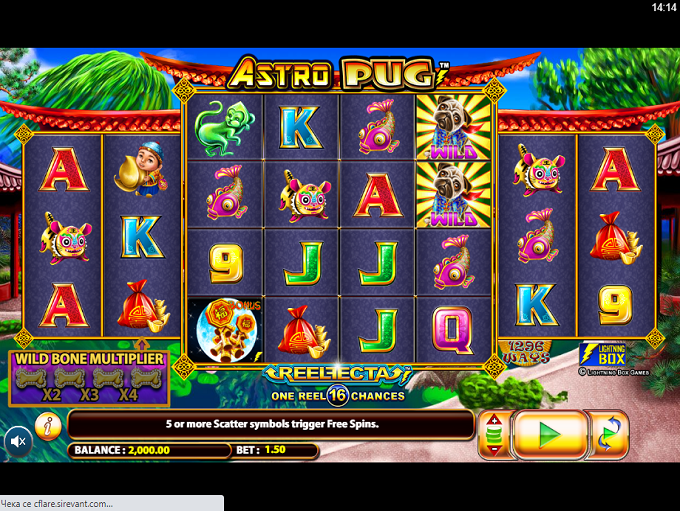 Online slots come in a lot of different shapes and sizes, but you can't get too far outside of the box with a format without players losing interest. Lightning Box Games found a good balance in the Astro Pug slot while using their Reelfecta approach to the layout, and that adds a ton of action to a title with a theme that's pretty atypical.
We like what they've done with this different type of theme, and we also like what the pay table and feature set look like in this game because it all comes together to give a pretty action-packed experience.
Format and Layout
This game essentially has five reels with an all-ways format. It looks like there are eight reels, but the 4x4 spot in the middle actually acts as a reel with 16 symbols on it thanks to the Reelfecta format that Lightning Box uses. This can take a bit of time to get used to, but it offers some opportunities for a ton of multiple wins on the same turn, so it increases the hit-rate dramatically and very much drops down the volatility of the game.
A variety of bet sizes are available at all levels, so you'll have no problem picking out sizes that fit what you're looking for.
Scatter Symbol Wins
The scatter symbols in this game are important because there are so many extra symbols on the reels thanks to the Reelfecta approach. You can get a lot of them on the reels at once as well, and it starts with a 1x win for five of a kind. You can pick up 5x for six or 10x for seven of a kind, and 25x payouts are there for eight of them on the reels at once. A big win of 500x is yours if you get nine or more scatters on the game board all at the same time, which is a pretty impressive win.
Wild Pug Symbol
The pug from the title of the game is a wild. It shows up on the second, third (4x4) and fourth reels during the regular game, but it doesn't show up on the third in the free spins mode. It doesn't give its own wins, but it showing up on the third reel is extremely important to your hit-rate.
Free Spins Mode
When the free spins mode activates with the scatters, you'll get a pug symbol that starts in the corner of the third reel 4x4 grid. After each free spins, you'll get either another pug or a bomb. If the pug appears, you get an extra free spin and locked-in wilds. When the bomb appears, that's the end of the free spins mode, and you'll get an additional win of twice your triggering bet size. However, if you make it to the point that all 12 outer positions of the third reel grid are pugs, then you'll get a mega spin where the entire center reel is comprised of 16 wild symbols.
Wins and Payouts
A multiplier of up to 4x can happen as well thanks to the golden bone symbols, but we're going to look at base payouts. Remember that you can win up to 4x the base amount with those multipliers.
The boy holding the golden symbol gets you 125x for five of a kind. The green money gets 75x for five, and five of the purple koi fish is worth 50x. You can also win 40x for five of the golden cat or the bag of gold ingots. At the lower end of the pay table, it's 20x for five of a kind of any of the card rank symbols as well.
Overview
Astro Pug is a fun game with a theme that stands out for being a bit different than what you're probably used to under normal circumstances. Regardless, Lightning Box Games did an excellent job with this title when it comes to combining graphics, a concept, features and the pay table, and everything really comes together to form a particularly cohesive experience.
We do offer a warning before you start playing this game, however. If you prefer titles that have big payouts available for single wins and that have a higher volatility, then you're not going to find those things here. The high hit-rate from the Reelfecta format really drives down the volatility in a major way, so most of the gameplay centers around having a lot of small and medium wins instead of infrequent large payouts.
By
Jesse Eddleman
Top rated casinos to play Astro Pug
Other recommended Video slots