TwinSpires Horse Racing
Try TwinSpires horse wagering now!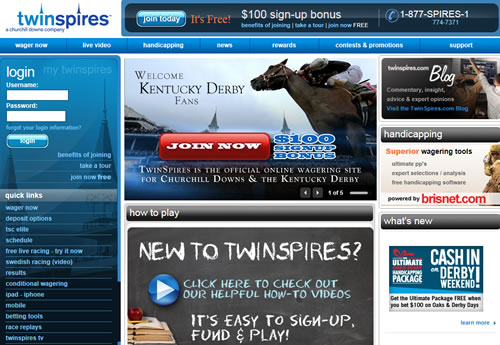 TwinSpires horse racing, the place where you never have to be separated from the horse racing action. Learn about mobile horse racing, the TSC Elite program, using horse wagering tools, and conditional wagering in the table below.
TwinSpires serves as the official legal online horse betting site of the Kentucky Derby and Churchill Downs. Players can virtually wager on every horse in every Thoroughbred, Harness, and Quarter Horse race in venues all over the planet.
You can bet on horse races online nearly every hour of the day and on horse races nearly anywhere in the world.
Visit our legal online horse betting at TwinSpires review for more information on legal horserace betting.
TwinSpires Online Horse Racing & Reviews
Select "TwinSpires Horse Racing" for all their information about online horse racing. TwinSpires Horse Racing
TwinSpires Horse Racing wagering services are free from subscription fees. Taking a bottom-up approach to equestrian wagering, TwinSpires features free live streaming video, race replays, real-time racing and betting information, and easy deposit and withdrawal services.
Twin Spires legal online horse racing betting also offers conditional wagering, a timesaving feature that allows players to place specific value bets without having to be glued to the monitor. All you need to do is set minimum odds at the scheduled timeframe, and your horse race bets can be sent automatically.
TwinSpires Promotions: Not only does TwinSpires provide its customers with non-subscription-based wagering, it also organizes extensive lists of contests and promotions held daily and throughout the year.
From welcome incentives to deposit match bonuses, TwinSpires also features a players club, regular tournaments, and big-payout contests.
The Twin Spires Club: This horse racing player rewards program gives its players free wagering credits, merchandise, Brisnet products, and even seats in the private VIP room at Churchill Downs on Kentucky Derby Day. You may bet on horse races online, but your player rewards are very much the real thing.
Online Horse Betting Contests: Think you can out-win and out-wager the best horse race enthusiasts? Twin Spires offers several contests each month that provide handsome rewards for the player who can place the most successful online horse bets in a given time.
Online Horse Race Wagering Tournaments: In these online horse race wager tournaments, players try to make the most winning wagers within a specific time frame (usually over several days). Sometimes the prize includes free wagers for a year!
TwinSpires interviews: If you read player correspondence and interviews with the winners, you can get a few inside tips on how to emerge successful at online horse race wagering efforts. Most of them all repeat the same thing: practice makes perfect. Of course, it also helps if you know how to bet on horse races online.
TwinSpires Horse Racing Betting Special Features
Speaking of learning how to bet on horse races, online or not, Twin Spires offers an unbelievable resource base for all things involving legal online horse betting, online wagering for horse races, and betting on horses.
From explaining the handicapping process in elaborate detail to providing insight on jockeys, horses, and performances, Twin Spires gives new and old horse race gamblers a lot to digest and a lot to learn in the art of picking the right horse to win (or lose or perform).
TwinSpires Horse Racing is legal in the U.S. and also available on the iPhone and iPad via the Twin Spires mobile home page. You won't lose any of the live-streaming video or replays, and you'll be able to access it from anywhere you want. Never miss a moment of online horse betting again.
If you're interested in legal online horse betting, Twin Spires offers a nearly uncontested view of the globe's horse races. Visit TwinSpires for yourself and see.