Quickspin Slots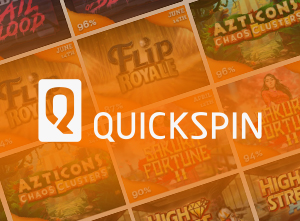 Quickspin is originally a Swedish game development studio, launched back in 2011. Today the main office is still located in Stockholm, though the company itself has grown into a true multinational. Their online slots are presented across most regulated jurisdictions, offering high playability on all devices. A steady publishing schedule ensures that there is always something new and interesting to try out.
Something that pushes these slots to the next level is the company's dedication to gamification. That means that besides the normal bonus spins and use of bonus cash you get additional features, which vary from one game and online casino to the next. And when it comes to availability you've got plenty to choose from, whether that's slots, casinos or platform partners. Let's take a deeper look at the details.
Radiant Online Slots
Take a look at the Quickspin logo, their home page or any of their slots and it's clear as day that these guys are in love with bright colours. Whatever the theme and setting, that gives a bit of a soft edge and look to all the games, though certainly there might be an exception or two in the total.
What this really means is that you get some pretty nice graphics and animations to view. Luckily, the company hasn't forgotten about music and sound effects either, effortlessly pairing them in the best manner possible. The end result is pretty much always enjoyable, and although the actual gambling and gaming is at the centre stage, the aesthetic qualities do more than their part to lift the whole experience to another level.
The Most Popular Themes and Setups
Quickspin isn't afraid to shop around, so to speak. Not only do they find inspiration across the world, but their most popular games tend to have wildly different themes. Sakura Fortune II slot explores the blossom trees of Japan with the help of bonus spins, fortune respins and mystery symbols. Big Bad Wolf takes the popular folktale and adds in wild pigs, multipliers and yet more bonus spins. Crystal Queen likewise follows folklore but adds in swooping reels, extra rows, lines and multipliers. The Wild Chase takes a completely custom story and rewards players with a combination of respins, wilds, bonus spins and more multipliers.
You're likely to find several 5x3 reel setups, but only form a sizable minority rather than the majority. There's much more variety in that sense than you'd expect, and the same applies to the paytable. Winlines, paylines, ways to win and even Megaways systems are all there for those willing to look. Those looking for quality and variance are certain to be entertained.
Bonus Spins, Respins and Multipliers
When it comes to different special features you probably gathered from the above paragraphs that bonus spins play a great role. You can find them on almost any game, and that's not just something limited to Quickspin online slots. There are all sorts of modifiers that ensure you're not getting the same bonus rounds from one title to the next. These always tend to elevate the basic wins to new heights, though it's not something every one of these slots even needs.
And of course, you can find a pretty wide variety of other bonus games too. These can take many forms, often likewise modifying different parts of the base game. Extra rows and symbols might be added, mystery symbols can transform what's already on the reels, wilds might stick to the reels, and multipliers take the wins to whole new levels. There's also an option that allows you to activate bonus features for a lump sum payment, though this is not available in all jurisdictions.
It's a Numbers Game
Something that sticks out with these games is that the RTP, that is return to player, can vary a lot, even wildly at times. For most games you can trust on the industry average or even a bit higher average returns. But others dip down to 94% and some even considerably lower, to 90%. What's more, the same game can come in several different settings. This means that you should always have a look at the details when opening up the games, though once you find a good casino you can be pretty sure that the numbers are always the highest possible ones.
When it comes to the other important numbers the company has settled for the higher range of values. We're of course talking about the possible wins that the slots come with. It's not rare at all to see individual combinations pay out a thousand times the line bet, and not all that rare to even see wins that reach ten thousand times the round bet. And it just keeps getting even higher, even though there aren't really any jackpots at play. Keep in mind that the variance gets pretty high too, and there might be a dry spell or two between winning spins.
Achieve More Bonuses
The company is not content with just offering something extra via gameplay features alone. Quickspin Achievement Engine isn't something that players will make direct contact as such, rather it's another bonus tool that online casinos themselves can use to increase replayability, and of course player engagement. For any self-respecting casino game producer tools like these have become invaluable additions, especially as bonus spins have become available via almost all casinos and producers.
The way the setting works in these games is that you are given a set of goals for individual games, and by completing them you earn achievements. These are more than just ribbons and badges, as they come with points that you can in turn use in these games for extra bonuses and more. It's simple, and it works.
Slots