AvatarUX Slots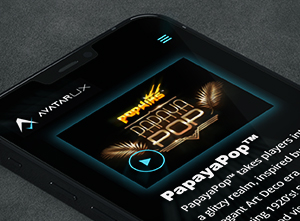 Officially announcing its presence in 2019 during SiGMA, AvatarUX instantly captured the attention with its engaging online slots. Breaking the ice with Lilith-themed game, the producer gained wider visibility thanks to its authentic in-house mechanics PopWins.
To date, the producer received a couple of accolades that confirm that the high level of quality they deliver is recognized. Also, it runs under the YG Masters umbrella and has access to a wide array of solutions and tools designed by Yggdrasil.
Colorful Spectrum of Topics
In its premiering release Lilith's Inferno, AvatarUX paid tribute to a female demonic figure of Jewish folklore, known as demon and Adam's first wife. Complementing the gloomy atmosphere are the fantastic visuals and scariest soundtrack. Packed with a generous 96.4% RTP and 22% base game hit rate, the game easily found its way to both casual low stake consumers and high-budget customers.
Following the excellent success of the mythical saga was the very first PopWins title, PopRocks with the majestic neon castle in the backdrop. WildPops, the second one in the series, brings the exciting world of dragons while CherryPop accommodates the most beloved set of retro symbols.
BountyPop deals with a spooky pirate theme while TikiPop takes players through the lush jungle of Mexico and mysterious Mayan temples. HippoPop is widely impacted by the authentic vibe of Oaxacan arts and Alebrijes. Paying homage to the glitzy and glamorous Art Deco period, PapayaPop hosts amazing jazz melodies, while the PiggyPop takes place in an elegant casino.
Every slot adventure coming from this creative workshop deals with a different theme, which indicates that the studio is willing to play with concepts and explore a variety of cultures and phenomena. Plus, they were curious to discover how the inventive mechanic works in diverse settings, which is one more reason for the wide variety of topics.
Mighty Feature for Endless Winning Combos
With the exception of the debut release, the other stories from AvatarUX are all enhanced with PopWins. This innovative element is exclusive to the studio, making it the only brand that can officially use it. In October 2021, the supplier announced a strategic deal with Stakelogic, granting them access to this feature.
How does PopWins work?
Every time a punter gets a winning combo, the symbol "pops" and generates two new icons, which means more opportunities for additional wins. Continuing to roll as long as winning combinations appear, this feature expands the number of rows from four to seven. As a result, the number of winning ways is enlarged as well, amounting to a staggering 33,614 or 524,288 in PiggyPop.
Worth stressing out is that the average hit rate for the PopWins series revolves around over 20%. This means the feature appears more than twice every 10 rounds. Such an attractive potential not only gave this element the status of iconic but ensured constant players acquisition and retention.
Other than this mechanic, punters can find some common features in their installments, such as wilds, scatters, extra spins, multipliers, Gamble Wheels, and similar. Let's not forget to mention Buy Bonus, which allows punters to purchase extra spins, and Buy Bonus Max, found in PiggyPop, which ensures 93,312 starting ways.
Slots