Arcadem Slots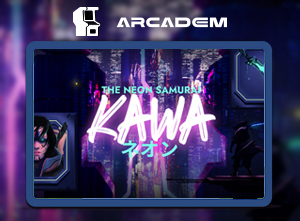 Founded as an enthusiastic project of two friends and business associates, this studio became the part of the industry in 2020. What this creative gang wants is to bring a futuristic perspective that relies on the diversity of opinions, views, and experiences.
What's the most prominent characteristic of Arcadem's collection of games?
Though there aren't tons of releases featured in the studio's catalog, still from what can be seen, it's a mix of excellent visuals, catchy music, and some all-time popular topics.
This is, more or less, the definition majority of brands use to grab the attention of the audience world-wide. But, they always put all efforts to come up with some refreshing idea that would differentiate them from the competitors.
What is it that Arcadem's titles have?
Analyzing the Portfolio
Structured as a 5x3 video slot with 10 selectable paylines, "The Neon Samurai: Kawa" takes punters to a dystopian city named Citadel. Painted in vibrant neon colors, it creates a slightly gloomy atmosphere, with plenty of tension in the air.
What contributes a lot…
…is excellent music done by duo Ticon, which fits perfectly the overall idea and visually-impressive art. The idea of this Japan-inspired story is to bring one of the most popular combos which punters worldwide like- a mix of futurism and nostalgia.
Next in line is "The Evil Elf: Night Before Christmas", which tells a story of a bad-behaving elf Frostberries who's up to some adventures.
All in all…
…this is more than a clear indicator that the Arcadem team is willing to play with different topics and create products that will be suitable for various types of players and their preferences.
It's the ultimate quality in all segments they want to deliver, and those are concept, algorithm, and design, at the same time showing their willingness to explore and have fun building immersive content.
Which Features Are Present in Their Games?
Let's start with Kawa, which represents the Scatter. Whenever three of these hit the reels 1, 3, or 5, a punter can grab 10 additional spins- this is when Wilds become sticky. Then, there's Wild which serves as a replacement for all icons, excluding Scatter.
Furthermore…
…there are several symbol multipliers that produce payouts based on the player's bet amount per line. So far, it seems that the team has stayed within the limits of ordinary, utilizing more or less common features found in any slot game.
But, knowing that there's also a Gamble Ladder, which can boost winning chances additionally, they showed the courage to explore the possibilities of other features as well. Also, there's a special feature, available in the limited number of jurisdictions, dubbed "Buy Into Bonus", which allows consumers to enter directly into extra spins mode.
Strong Connection for Future Successes
At the very beginning of its career, this forward-thinking provider entered milestone cooperation with EveryMatrix (EM). Being launched as the first client in EM's RGS Matrix platform, the developer got an excellent opportunity to showcase its products to an extended range of audiences.
As stated…
…this agreement enables the up-and-coming producer to exhibit its collection of games to clients who are also utilizing EM's collection of games delivered by Spearhead Studios, one more brand whose popularity is surging.
Slots