Aces and Faces Video Poker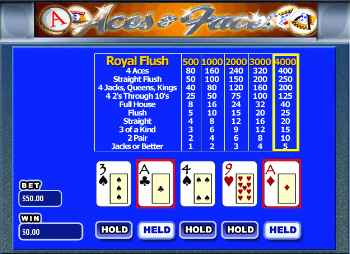 Aces & Faces is a video poker game based on 5 card draw with no wild cards. The pay table for Aces and Faces is geared toward the higher payouts for'four of a kind' combinations meaning jacks, queens, kings and aces, which is what the game name is taken from.
This game pays on pairs of jacks or better, two pair, three of a kind, straight, flush, full house, four 2's through 10's, four jacks, queens or kings, straight flush, four aces and a royal flush with the highest payout of 4000 coins for the royal flush.
This software uses anywhere from 2 to 4 decks that are shuffled after each game. When you begin play, you're dealt 5 cards face up and you should hold or discard as many cards as you like to make the highest winning hand.
The coin denominations for this game are 25¢, 50¢, $1, $5, and $10 and you can play 5 coins per game. A royal flush on max coins (5) pays 4000 coins.
There is a double up option available but just pretend it isn't there!