Playreels Slots
Playreels is a company shrouded in mystery. They have very little online presence, and beyond the availability and type of their games it's hard to tell what they're all about. They seem to have established themselves around 2019 as a small slot gaming studio. Despite this mysterious lack of information, they have managed to gather something of a following, and a rather sizable portfolio of online slots.
And we must say, with a name like this it's not exactly easy to stand out as unique. And not having access to licensing information is a bit unsettling too. However, the games are available in a variety of modern online casinos, with even some big names in the mix. These games seem to be aimed at US audiences, among other things. All that said about the company, let's take a look at the games themselves.
Online Slots With Popular Style
You don't have to go through the entire collection of Playreels online slots to notice what their favourite online gaming setup is. Five reels, three symbol positions and normal paylines moving through them. Now, they do switch that up from time to time. Perhaps adding more reels, or taking a few away. Maybe adding more symbol positions, or just changing the number of paylines available.
It's of course no big surprise that a rather small online slot producer decides to go with this setup, as it is the most popular way for players to enjoy online slots no matter who is producing the games. Now we did find a title or two that does play out differently, by example adding in ways to win systems. Both those are a real rarity here. If you're into classic or standard slots, then you're in for some interesting spins.
Popular Themes Too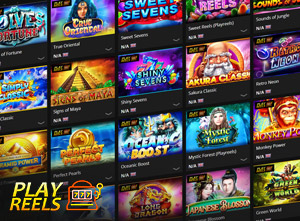 Witches, Cinderella, Wild West, savannah and all its animals, the deep sea riches, and tons of other such themes centred around popular culture, well-known stories or just simple and enchanting things make up most of the themes in these games. There aren't really any big surprises in the mix, unless you count titles like Sakura Classic which takes a more easterly direction with its influences.
On the whole, what matters is that these games aren't repetitive. And in that area, whilst there are many similar themes from other game producers, we can't really say that there would be any duplicates. It's a rather strange mix of familiar yet unique and new. Take a look.
Special Features
Here's the thing about classic slots: they tend to be too set in their ways. Bonus spins, wilds and scatters, if even that. Luckily, with Playreels you get something a bit beyond that. And all of this is balanced nicely with the normal wins you can get from the paytables. Although we must say that the RTP in many of these titles is a bit too low, often being around 94%.
So what can you expect beyond bonus spins? Well, respins for one. Multipliers, and avalanches or cascading wins are often connected with them. You can choose between different settings at times, and also view your game history when you want. All sorts of extra modifiers like stacked symbols or locked and expanding wilds also add a bit of action on the reels.
Slots