Mighty Finger Slots
What's so mighty in the Mighty Finger slots? A lot of things, but let's not be hasty. First, a few words about the provider.
Few words literally...
…since getting the info about this brand was not a piece of cake. Without the official site, social media accounts or media coverage, it is one of the mysteries of the gambling world. What we do know, it that its games have appeared in 2019 and make quite a stirring.
What was the stir?
The quality of its games to begin with. With superb graphics, excellent animation and unique design, the developer has introduced a new look and brought the fresh of breath air in the themes seen so many times before.
It manages to elevate the player's engagement and overall experience by creating odd-looking yet entertaining games. Add to that a nice winning potential, and all the ingredients for making the enjoyable slots are in a bowl.
You can try them out at the reputable Casumo casino who is hosting the developer's entire pokies portfolio. But before you do, let's see what makes them worthy of your time.
Mighty Finger Slots Are A Bit Odd
Looking at each of the provider's games you will get the feeling that something is a bit off in all of them. But not in a bad way. A sensation extremely hard to describe, and what makes you stick around in an effort to find out what that is.
Yup, all releases are a bit odd...
...and that's their greatest perk. It is what makes them different. And in such a competitive industry where new slots are launched daily, this is a big advantage. The one that helps this provider stand out.
With an array of themes, its portfolio offers something for every slot lover.
Although they aren't original...
...and revolve around explorations of Ancient Egypt or jungle quests seen so many times before, they do bring a unique view to the classics.
The cartoonish design is a signature feature of the developer, but the characters are whimsical and comical which makes every gameplay a little more fun. They are odd and unusual, precisely what makes them special, different and so refreshing to the market overflooded with so many look-a-like slots.
The Portfolio Of Games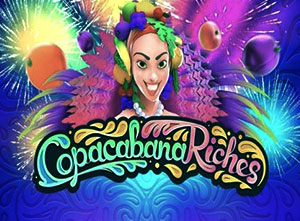 As you can notice...
…Mighty Finger is a primarily slot provider. For now at least, the whole portfolio of its products revolves around these types of games. Its game library consists of over two dozen titles, suggesting that a developer has been quite busy considering the time he has spent in the industry.
The top 10 games are:
Book of Bob
Lion Blitz
Copacabana Riches
Deluxe Riches XXL
Calaveras Gold
Pixie Queen Riches
Adventure Cab
Book of Seth
Filthy Pirates
Goblins Go Wild
One of the provider's most popular games is a gripping Egyptian-themed slot by the name of Book of Bob. With a setup of 5 reels, 3 rows and 10 fixed paylines, it features special expanding symbol, wild, scatters, extra spins round and winning potential of up to 5000x the stake.
Lion Blitz comes with an unusual 4x5 grid. The animal-themed slot also has an extra spin feature that can be retriggered. But during this feature, the wild symbols get the multiplier to attach to it. Better yet, multiplayers can go up to x45, increasing the winning potential off the roof.
High Judging by the name Copacabana Riches, players might expect the raging party or carnival on the reels. In fact, this slot actually has a fruity theme, although the beautiful beach is seen in the background of the grid. Although the gameplay is simpler without extra spins round, it is a high volatility excitement with 10 paylines and an opportunity to win up to 1000x the stake!
Should You Try Out The Slots By This Provider?
By all means...
...the answer is sound yes. If you're a passionate slot lover fed up with similar titles being launched over and over again, these games might be right up your alley. They might don't come with some extravagant special features and multiple winning ways, but their gameplay is still thrilling and engaging.
What separates Mighty Finger slots...
…is its unique presentation of popular themes with the original yet odd twist. The superb graphics and animation are making the visual appeal even better, making them very enjoyable. All players who are on a lookout for different, exciting games should check out releases by this provider.
Slots