New Online Slots for May 2007
New slot games for May 2007 were new Microgaming slots, new Rival slots and new Vegas Tech slots, with reviews on the the newest slot games available, reviewed as soon as possible and even before they were available in the online casinos.
We covered all the new slots for May 2007 for this month by software, and you will find the following slot game reviews to have the short version of information about each game.
Go to any of the following new slot games for May 2007 which were released for the month to read their short reviews and links to their full reviews. To see the slot games from April 2007 and back to 2005, see the slot table provided below.
New Microgaming Slots Released on May 25th 2007!
Microgaming Welcomes The Osbourne Family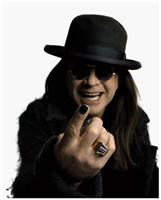 A new and upcoming state-of-the-art Microgaming video slot will star one of the world's most famous families, The Osbournes. Microgaming has signed a licensing deal with the Osbournes in a special series of graphic rich, cutting edge video slots, staring Ozzy, Sharon, Jack and Kelly, and is planned to launch later in the year, in 2007.
An Emmy Award-winning reality MTV series, The Osbournes, premiered on MTV in 2002 and ran through to March 2005. "The Osbournes" was cited as being the most viewed ever on MTV in its first season. All of the Osbourne family members have gone on to successful television or music careers since their family series in the early 2000's.
Roger Raatgever, CEO, Microgaming, says, "I can honestly say that when I came into this business I would never have believed that one day we would be welcoming Ozzy Osbourne and his family into the fold, but this goes to show how far we have come. Online gaming is well and truly part of the entertainment mix and we can't wait to launch our cutting edge Osbourne video slot to players later this year. We promise it will be a game to remember."
To see The Ozbourne's slot game, go to our New Slots for September 2007 page for the short review and the passage to its full game review.
New Rival Gaming Slots for May 2007!
New Vegas Technology Slots for May 2007!
Stop on by this New Online Slot Games for May 2007 page to see the new slot games of the past for the month of May in the year 2007. Take a look further into the past at the games which were released before the new slots for May 2007, found in the table below.
Past New Slot Games from April 2007 back into 2005