Eldorado Gold Online Slots
A 3 Reel 1 Payline Slot Machine
Birds chirp, frogs croak, and the payline sings. Powered by Wizard Gaming, and the sounds of the Amazon, Eldorado Gold is a 3 reel 1 payline slot featuring a 5000 coin jackpot and plenty of chances to make your coins work for you.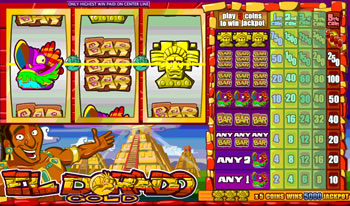 Win the Eldorado Gold 5000 coin jackpot!
The Eldorado online slots game does not have wilds or multipliers, but that doesn't mean the payouts aren't worth it; by landing only one parrot on your payline, you can double your bet (which is a good enough multiplier for me).
Like all Wizard Gaming slots, Eldorado Gold slots have a well-organized pay table that lights up according to your bet. Don't forget the fully customized Auto Play feature; you can set it to play from 5 to 500 spins, and can also program it to stop when a Jackpot is won or if a win exceeds a certain value.
With the Eldorado Gold online slots wagering, use its adjustable coin sizes ranging from $.25 up to $5.00 per bet. Where its minimum bet is $.25 when one coin is played, and up to $25.00 a spin when the maximum bet of 5 coins are played.
The Symbols in Eldorado Gold Slots:
Aztec Idol:The only way this one pays if you can get three to line up on that payline. Not an easy task, but if you can do it, you can score the highest jackpot value of 5000 coins.
Eldorado Gold - Bars:This game is chock-full of bars and their three combinations (one stack, two stacked, and three stacked). I found them to be my most frequent payout. Get three of a kind or three of any kind and they'll toss from 4 to 250 coins in your account.
Parrot:Polly want a payout? These colorful birds will rain coins every time they hit the payline whether they show up in ones, twos, or threes. Whenever they show up, they at least double what you put in (from two to 50 coins).
I found Eldorado Gold online slots to be an enjoyable play because the payouts are larger and they happen a bit more frequently than I expected.
Play Eldorado Gold Online Slots at the Following Recommended Casinos.