Spadester
Spadster online is no longer available through our site at this time. We suggest trying other online Skill Games.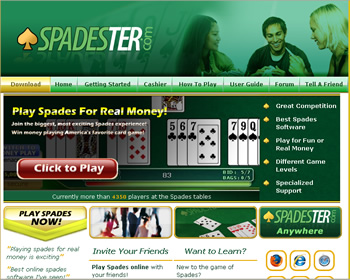 Do you enjoy the game of Spades but can never seem to find others to play with? Your worries are over! Welcome to Spadester, the online destination for Spades playing enthusiasts. With thousands of people playing at all times during the day, you are sure to find an open table waiting for you.
With set-up like online poker software, Spadester offers players a chance to play for fun or for real money against others across the globe in online spades card games.
Spadester has these three variations of the game of spades to choose from:
Individual - You can play Spades as individuals, meaning, each player has to bid a number of tricks from 0 - 13, or how many plays they will win, and each player is responsible for making their own tricks without the help of a partner. Single players are also allowed to bid "nil" and "blind nil".
Cutthroat - When playing Cutthroat, individual players are dealt 17 cards each and the remaining card is tossed out of play for that particular game. Players then bid for the number of tricks they believe they can make between 0 and 17.
Players are also allowed to bid "nil" or "blind nil" in Cutthroat games. You can also play where the total of the three bets cannot equal 17 tricks, making it impossible for each player to make their bet exactly.
Partnership - Playing Spades in pairs is a great way to make new friends and hone your skills. For first time partners, you will note that your partner sits directly across from you. After the cards are dealt, each player is asked to make a bid.
In "Parnership", the player to the dealer's left can lead with any card they choose except a spade. Continuing clockwise each player follows suit unless unable to, and the player may play any card. Please keep in mind; you may not lead with a Spade card until one has been played during a previous hand.
Scoring depends on the game variation you choose but players are able to determine the amount of points needed and the time limit of the game once a room has been opened.
Players wishing to play for real money, can do so with the depositing methods Spadester provides.
You know you have come to the right place to play a game of spades, by playing at Spadester!
Spadester.com is owned and operated by Time Control based in Cyprus.