Playing Poker For A Living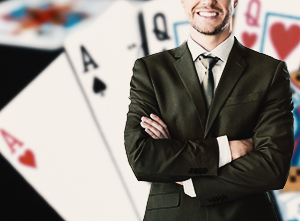 With the explosion of popularity in the poker world over the last few years, many players are considering taking up poker as a full time job. This has become even easier and less costly thanks to the availability of games twenty-four hours a day on the Internet. Whether your best game is limit Texas holdem, no limit Texas holdem, Omaha high, Omaha high low split, 7 Card Stud or even 5 Card Stud or 5 Card Draw, there are always plenty of games running.
When you factor in the reduction in costs associated with playing at home, such as having no need to drive anywhere or tip anyone, the Internet is the place to at least consider starting a professional poker career. And don't forget the many bonuses that Internet based poker rooms offer to get you to try their rooms and continue to play there.
So far it all sounds pretty good, doesn't it? If you are a very good poker player and are willing to sit in front of the computer eight hours or more daily, then it is a viable option. I have read estimates that anywhere from 10 to 25 percent of poker players are winning players over the long run. Depending on which end of the spectrum you choose to believe, that means that 9 out of 10, or at best 3 out of 4, poker players lose money.
One of the questions you must be able to honestly answer is "are you in the top 10 to 25 percent of all poker players"? Even if you believe that you are, it could take as long as five years to determine if that is true.
The game of poker, by nature, causes even the best players in the world to go through many ups and downs and prolonged losing stretches. This means that not only must you be able to psychologically deal with the swings; you must also be able to financially deal with them. These are the two things that cause many good players to fail in the long run, so these are the things you must prepare for before your poker career.
I will now offer a little more good news. Thanks to the reduced expenses and bonus opportunities mentioned above, if you are a good player, but maybe not in the top 20 percent or so, you can still make money playing poker on the Internet. Take advantage of the bonus opportunities as you continue to improve your game and before you know it, you may find yourself turning a nice weekly profit from the tables.
To review, understand that the life of a professional poker player is not as glamorous as it may appear. There are trials and tribulations for even the best players. Prepare for these ahead of time and take advantage of the best things about online poker and you too can have a chance to play poker for a living.