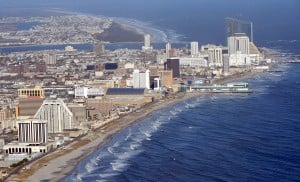 Land-based casinos, in all of their enormous glory, have several things going for them. They nearly burst with electricity and excitement, delicious food and beverages, and gaming choices. Brick-and-mortar casinos are notorious megaplexes, designed to keep you in and keep you playing, no matter how many miles you may log in walking their interiors. The wallets of casino patrons may take a beating, but that's nothing compared to what their feet are going through. And this doesn't include slot-machine elbow or blackjack finger cramps.
Oh, what we endure for the games we love.
According to a recent Press of Atlantic City article, life in their brick-and-mortar casinos are about to get a whole lot easier. With the New Jersey Division of Gaming Enforcement approving mobile gaming in Atlantic City, casino customers will soon be able to play their favorite games while sunbathing on the pool deck, in between courses at the buffet, and lounging in their hotel rooms.
But don't get too excited just yet. Just because Atlantic City could offer this latest casino technology/amenity, doesn't mean it's going to be available, or even popular. Las Vegas casinos, who have been testing the mobile market since 2009, have reported less-than-stellar incomes from the ability to gamble anywhere and everywhere.
This slow-to-grow segment of the casino portfolio doesn't seem to stem from a lack of technology or marketing; rather, a result of introducing a new concept to a very protective industry. Says David Schwartz, director of the Center of Gaming Research at the University of Nevada Las Vegas, "If you look at the slot machine, it took a long time for change to happen. Ticket in-ticket out technology was talked about in the 1980s, but it took 20 years to get it."
The reluctance comes from both the casinos and the thousands of clients that come to visit. Trust could be an issue, timing another. In the meantime, the recent ruling will expand casino patrons ability to access games wirelessly from anywhere within the casino complexes from wireless devices that have been registered with a mobile casino account. Casinos will even issue wireless devices if a customer wants one.
Schwartz, for one, sees a lot of potential with mobile gaming and sports betting, taking advantage of a mobile devices ability to place bets in real time. However, overturning the ban on sports betting in New Jersey may be a bit harder than getting folks to give up their chair at the slot machines, no matter how much that elbow may bother them.