8 Team Dash for Cash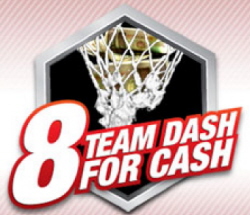 The Fantasy Basketball game of 8 Team Dash for Cash is a premier college sports event, with a unique scoring system and multiple bonus point opportunities to enhance your fantasy basketball fun, brought to you by RotoPlay.
Object: Select any 8 teams in the tournament, plus a "Wildcard Team" and your National Championship Game score prediction. Utilize your fantasy basketball gaming skills to build a team that will gain more RotoPlay points than your competitors' teams. The team with the most points in this contest will win the Grand Prize.
Cost: Entry fee and an entry fee for each additional entry. Buy 4 entries and get the 5th entry free.
Prizes: Grand Prize is $1,500. Additional prizes are awarded for 2nd – 25th places.
Method of Play: On the Internet, phone and postal mail. There is a maximum of 1,000 entries for this contest.
Entry Deadline: Near mid-March.
Status: Contest starts near mid-March. More information on this contest at RotoPlay.
Test your knowledge and skills within the fantasy basketball leagues during the NBA and NCAAB seasons towards receiving cash rewards while playing Fantasy Basketball at RotoPlay.