HungryBear Gaming Casinos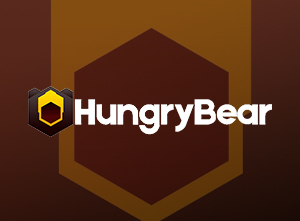 HungryBear Gaming is quite a memorable name, don't you think? Maybe even a bit unusual for a supplier of casino content. But since this particular bear is hungry for some innovative games, it has some sense.
Dedicated to creating groundbreaking releases this software developer has become a major player in the competitive iGaming market practically overnight. Although it seemed that the brand popped out of nowhere and took the industry by surprise, the team behind it has years of experience in this line of business.
The result of them teaming up was a brand that took the industry by the storm with the high-quality releases.
It's not common for an unknown provider to make such an impact, so it will be interesting to find out what makes this studio tick and where its straights and weaknesses lay.
A Piece of The Company's History
When you know the background of the team's members...
...it won't be so surprising why this provider has made such an influence in the gambling community in such a short time. The senior management team and technical architects were founders of CORE Gaming – a reputable brand that was acquired by Sky Betting & Gaming in 2016.
They were also pioneers in the digital metamorphosis of the industry, especially on the move from Flash technology to HTML5 back in 2011. This included converting and rebuilding the most valuable slots on behalf of major content suppliers globally and driving an industry-wide move to the then-nascent technology.
Since the team was under agreed 2 years non-compete restrictive covenants in the UK and European jurisdictions, so it had to wait for such a period to pass to launch its own brand. The time is well used for creating a strong strategy and product line ready to launch.
June 2020 brought the end of the restrictive covenants, and the company was fully open for business with a complete offering of its unique services, experience, and expertise. With tangible products and clear vision, it attracted the instant interest of the industry.
Partnerships and Licenses
Lucrative partnership deals weren't far behind. The company is collaborating with one of the big names in the iGaming world – Blueprint Gaming, Leander, SG Digital, and Reel Play.
A major deal was signed with the British Columbia Lottery Corporation (BCLC) in Canada as well, and the brand has already started producing and releasing high performing content onto its PlayNow platform.
The studio is based in the UK and Canada and is currently licensed by GPEB to deliver content to Canadian operators. However, the developer has pretenses to expand to other jurisdictions by "putting full licenses in place for the UK, Europe and other regulated markets over the coming year", as stated on its official website.
HungryBear Gaming Portfolio Reveals A Diverse Games Selection
This upcoming provider already can brag with quite a diverse portfolio. Considering that it is still at the beginning of its way to the top of the industry, it is a bit modest, which is expected.
However...
…the developer's small game library is impressive in its versatility. Focused mostly on slots, the studio is showing a range of different themes, volatility levels and gameplay mechanics suitable for various playing strategies.
Featuring innovative special features, full mobile optimization, superb graphics and animation, these high-quality games are providing an engaging playing experience for slot lovers.
But this isn't the only type of release that the studio has to offer. To the delight of table games enthusiasts, online blackjack variants are also in the mix.
The provider's portfolio is constantly growing. According to the announcement on the official website, there are over 15 releases in the making.
Product Tour and Services
Besides creating innovative casino games...
…the company is providing other services and products to its clients. One of them is the recently acquired RGS platform - a direct copy of a technology that has been licensed and integrated to many operators, in multiple jurisdictions.
Integration of this platform to BCLC and other North American partners is in the process, while the studio emphasizes that it will prioritize licensing and integrating the service to several other locations.
This acquisition allows the brand to offer a greatly enhanced service to its partners in terms of speed to market, the bespoke nature of our offerings and simplification of associated agreements and systems.
Services that the developer provides include:
Product Concept Design - Years of experience behind the Product Design team allows the studio to produce a strong balance of fun, engaging and immersive gameplay combined with powerful player retention and optimal monetization elements
Math Profiling – Usage of proven math resources for creating sophisticated mechanics and features which players will love to play
Game Server Programming - The studio describes its game engine developers as "avid players themselves" which gives them a deep knowledge of game math, mechanics and features that will elevate the playing experience
Creative - Highly talented and experienced designers are focused on building attractive, engaging and compelling gaming experience in a form of original visuals and reinvented classic themes
Game Client Development and Integration - An essential part of the company ensure that every function and transition operate as they would expect, if they were in the player's shoes
QA – Team composed of test professionals are the last line of defense and the most important part of content delivery, that ensure games are at the highest level of quality and work without any glitch
Overall Impression
The provider appeared at the market like the phantom in the night and with quite a bang. With an ever-growing portfolio of groundbreaking games and partnership agreements with some top providers and online casinos, it has established itself as the force to be reckoned with.
Quite an impressive accomplishment in such a competitive industry. Some providers are trying and failing for years to make an impact that HungryBear Gaming made seemingly overnight. It is a studio composed of true experts and the industry's veterans who know how to deliver what promised – premium unique games that players will enjoy playing.
Useful Links