Rival Multi-hand Blackjack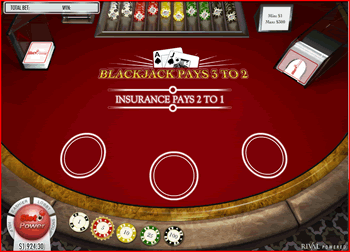 If you like Rival's single-hand blackjack, you'll love their multi-hand blackjack game. How can we be so sure? Because it's exactly the same game, only you get two more hands with each deal (and, therefore, two more opportunities to win).
All in all, this multi-hand blackjack game delivers the same high quality entertainment you've come to expect from Rival.
Table limits may vary by casino, but you can expect minimum table bets to be around $1. Our recommended casinos have table maximums from $200 to $1500, so you're sure to find an online casino and a multi-hand blackjack table that scratches what you're itching to wager.
You can also expect the play to be smooth and not too rushed, just as though you were leaning your elbows into the soft leather bumpers at a land-based blackjack table.
Multi-hand games like this have several advantages. For the time-crunched, they allow you to play several games at once with the same bet and essentially the same odds. For the tried and true multi-taskers, they offer a sense of accomplishment with each deal.
And for those who just really love the game, they just give you more blackjack. There's also something pretty satisfying about beating the Dealer with every single hand.
The recommended casinos below have proven to be Rival's cream of the crop in how they handle players, payouts, and performance. And not only all of that, but they're well constructed and provide excellent entertainment value. Try one (or four) out today!