Free Keno Game
Keno - Free Online Keno Game by Playech.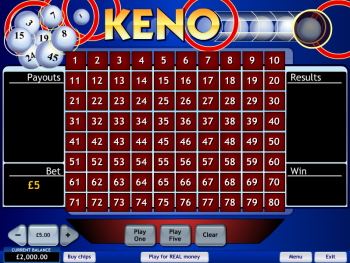 There are 80 numbered squares to choose from on this free Keno game, where you pick between 1 and 10 numbers to play.
Free Keno game wagering:
Bets on this game range between 10 cents and $5.00 per game.
You get to choose between 1 and 10 numbers on this particular game of free Keno board game.
Then click play and sit back and watch as the ball hit your chosen numbers.
Read the Full Playtech Keno review for more information.