Playtech Software Keno
Grand Online and PlayGate casino have two of the most fun Keno games out right now. Most Keno is your standard affair, but here you can play against others in a multiplayer environment.
This allows you the chance to talk to your fellow players through the in game chat program. All you have to do is click chat and you can talk to everyone playing the same card, it's as easy as that.
Chat makes Keno a whole lot more fun, this has been offered in bingo for a long time, but fortunately it's migrating over to Keno.
Keno is set up on an online machine, the graphics are quite good and the sounds aren't too shabby either. You can play anything from .01 to $10 all with a chance to win big if you match your numbers.
The more numbers you match compared to the amount you bet, the more you win. 4 hits on a 6 number bet will still pay good, but nothing compared to 12 out of 15, so its a lot better to play the full card.
You can choose up to 15 numbers at a time, the caller then randomly picks 20 out of the 80 numbers. Misses are marked in yellow and your hits will be highlighted in boxes, you can keep track of the rounds and how many hits you got for that round in the results box.
To see what your bets will pay out simply look at the Pay outs field after placing your bets. You can play 1 or 5 cards a time. Some casinos offer for, but 5 isn't bad at all. Still plenty of opportunities to win big.
You can easily navigate back to the lobby using the buttons at the bottom of the keno page. If you need help there is also a help button available that will prompt a help chat and you will receive assistance right away. Playtechs Keno set up is really easy and a joy to use.
PlayGate Keno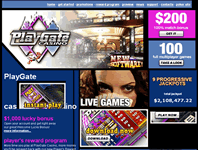 PlayGate casino is prestigegaming casino chock full of options for every style gambler to choose from. Playgate is available in two flavors, you can either play the flash site and not have to download the PlayGate software or you can get the downloadable version and install in on your desktop.
The downloadable version features a whopping 40 more games than the instant play flash version, but most are just variations of the base games offered in the flash casino. Both are good depending on what you're looking for, if you have a quick connection and want a big selection, get the download version!
PlayGate accepts a large amount of deposit options in 3 different currencies, Neteller, Firepay, Citadel, 900pay, Ecocard, Visa, and Mastercard among many others. If you don't use either of those you're sort of out of luck, but PlayGate is a good reason to get them if you don't already have one of them, especially Neteller as it is accepted almost everywhere these days.
Cash outs vary depending on the method, to get an idea on how long it will take to get your money you can check the banking options on site and it lists the usual times per method. The minimum withdrawal is $50 so make sure you have enough money or it won't let you proceed.
The casino games have a wide selection featuring a huge number of 3 and 5 reel normal and progressive slots, roulette, keno, craps, pai gow, sic bo, red dog, Caribbean, and video poker. Black Jack and Baccarat are also available.
If you have any questions or want to learn about the games there are online tutorials on the PlayGate website. They are quite extensive and will teach you all the rules you need to know.
PlayGate runs a new rewards system too. The more you play and deposit the more your points grow. The higher you go you gain a new color, each color has its own benefits.
The higher you go the better the prizes and bonuses get. Rewards range from higher deposit bonuses to being eligible for special weekly drawings and other color specific contests. It's a good reason to stick around for the long run as you can build up some really big advantages.
Promotions also run rampant and all deposit options usually offer some sort of monthly bonus, you can find this info on the same page as the cashier.
PlayGate Keno
Get a $200 keno bonus on your first deposit. See the web page for details.
Play PlayGate Keno Now
Grand Online Keno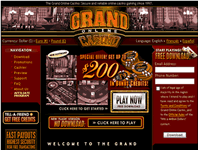 Grand Online casino is one of the most established casinos in the game. In business since 1997 the Grand Online has always offered an amazing online gambling experience with huge jack pots and better than Vegas odds.
You can play for real or with play money, either way everything is available with a touch of the mouse. On top of all this grand Online has strived to make innovations and have even implemented live games with live dealers. You can play Roulette, Sic Bo, Baccarat, and Black Jack all live!
Grand Online casino accepts various forms of online payments but only allows us dollars, currency can be converted from the entire world though free of charge. Depositing is easy and everything from Neteller to eWalletXpress is accepted. Withdrawals have to be a minimum of $20 to go through.
Any balance of less than $20 in your account left inactive for over a month will be reversed into your play money account.
Customer care is a big concern for Grand Online and they strive to make your gambling experience as enjoyable and easy going as possible. A wide array of frequently asked questions is available and the website can be read in English, French, or Spanish.
Grand Online also offers refer a friend bonuses, for every friend you can sign up under your name they will credit you $20 into your account on top of a 20% bonus of whatever your friend deposits, if your friend deposits $100 you can make $40 off the whole deal! Pretty good incentive to get people you know involved.
Over 80 games are offered at Grand Online. Both regular slots and video slots are available, with progressive and normal of each type. Over 10 different card games and a big selection of video poker machines.
Craps, Roulette, and Sic Bo are also playable. Grand Online also has some special featured games including Derby Day, Keno, and Megaball. Check them out for a fun and trusting casino experience!
Get a 200% keno signup bonus!