Superslots Bingo Review
Superslots Bingo is a part of the Parlay Software group. Easy on the eyes and easy to use. They offer multiple software options including Flash and Downloadable software games.
Typical card prices are from 5 cents to 75 cents per card. Jackpots are directly proportional to the number of players in a game. This means that the value of a game's cash prize will increase as the number of players joining a game increase - and the numbers are always increasing!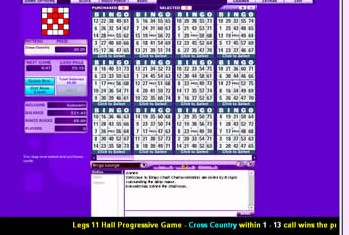 You can play up to 50 cards at once! Their optional auto-daub feature will make sure that you don't miss your numbers! Continuously running games means that you do not have to wait long to play.
A new game starts every two minutes after a game ends, 24 hours a day, 365 days a year. On average, there are about 120 games every day.
3 to go, 2 to go, 1 to go color bingo card - highlighting cards when there are 3 or less numbers needed to achieve a Bingo.
They have a 5.00 sign up bonus, and 105% first time bonus. Different rooms to play in, such as USA, Tuitti Fruity, and Zodiac.
The SuperSlotsBingo Chat Moderators are also readily available to answer all your questions in the Chat room. If necessary, the CM or any SuperSlotsBingo members who will be happy to assist you with their experience can also stay in the Help Room (a separate chat room) to help you.
Weekly newsletters with the weekly bingo game schedules are mailed to you. The newsletter is also updated in our web page to give you the latest information on onine bingo.