Sunshine Bingo Review
What a ray of sunshine, this site is fantastic!! First time in chat I felt like I had went into warmth of sunshine!! The CW was great, and the roomies made me feel welcome and a part of the family right away! What a refreshing feeling!!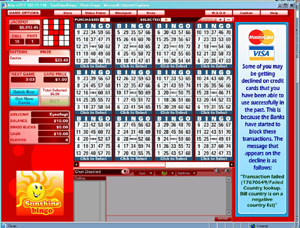 Every week "Special Bonus Offer" will be advertised in their mailers and on the site, which are in addition to the minimum bonus. These additional bonuses are automatically added to your account.
They have lots of different ways for bonuses. They have tournaments with nice prizes!!
One is the Mad Maxi's tournament. Every $50 deposit you make entitles you to more than just the daily Deposit Bonus!! That's right-with every $50 Deposit you are entitled to:
A two hour $2500 Private Bingo Tournament - WOOHOO!! Weekly on Wednesday. All $50 deposits made between Wednesday and the following Tuesday are eligible. And each player is guaranteed a minimum of $10 in the event they do not win a bingo game.
What a way to break your week and chill out with friends!!
Right now your first deposit gets you a whopping 200%!!
For a "Ray of Sunshine" check out Sunshine Bingo!!