Ruby Bingo
Ruby Bingo is one in the fine line of playtech online bingo halls, there are some things that make this one special though. Starting with the big sign up bonus, you can get up to $120 on your first deposit, quite the big help if you're ready to play a lot of bingo. A favorite of mine is the game history tab, you can see everything you've played, how much you've won, what the cards cost, the patter, basically everything you can think of.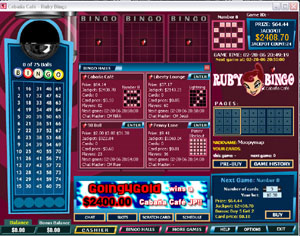 When buying cards you have the option to pre-buy, you can also quick buy or choose which cards you want, whatever your preference. Everything is presented in one box, if you want to play slots or try out a scratch card, you simply click it in the lobby and it pops up on top of the bingo cards. This way you never miss any of your bingo and you can keep playing the side games as much as you want.
Ruby Bingo has implemented some interesting things, one being the ability to upload your picture which can be displayed in your chat box when you're speaking to people. This is a cool feature because you get to see who you're talking to instead of just a name. Ruby Bingo also has a point system where you can earn Ruby Rewards, there are various levels you can obtain, and the higher you get the more your points are worth when you decide to exchange them.
If you win big your name will appear on the site on the scrolling bar of recent winners, I love things like this, always fun to brag to your friends and show them your name rolling on down the screen.
Customer service is readily available, if you need anything there is always a chat master around and if not you can drop them an email at the addresses found on the site, I've never had any problems though.