Miss Bingo Website Review
Miss Bingo is a beautifully put together site, but how couldn't it be with a name like Miss Bingo. A little bit of everything is encompassed in this fine online bingo hall. The bingo selection is great, card prices go everywhere from .01 to $1, depending on the hall you can find games going to .04 or even .60 cents everything is different. Miss Bingo is all about variety and giving the customer what they are looking for.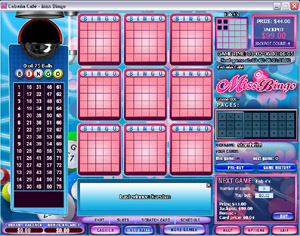 If you want a break from bingo Miss Bingo also offers a large selection of games in the more games section. There are four different slots, keno, jacks or better, roulette, and even megaball. Scratch cards are also available. You can bet assorted monetary amounts on all of these games as well.
Miss Bingo includes many options for you to customize. If you go into options you can choose your dauber color and shape of the stamp. In the audio options you can choose to have music on or off and if you don't like the female caller or just want a switch you can change it to a man. There is also an option to speed up the game speed and play in full screen if you want, I enjoy the window, but if your hard of seeing or just enjoy the feel of full screen you can change it to that.
Miss bingo has a high rollers club. If you play enough you will be eligible to join this, once you're in the more you play the better the rewards. At the end of the month Miss Bingo takes a look at your stats and will reward you anywhere from $10 all the way up to $100 based on your play.
Miss Bingo is full of fun, try it out if you really like being able to customize your game and have a giant selection of games to choose from.