Bingo Fun Online
Bingo Fun online is just as the name suggests, fun! This veteran site knows how to treat the customer and it shows by the large player base. You can come in any time and play a wide range of chat games with people from all over. Bingo Fun offers a huge choice in bingo games and has many different specials daily, just check the schedule for what's going on by the hour. Specials change every week too so you'll never get tired of playing the same old thing.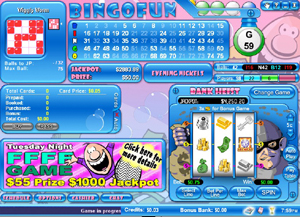 Bingo Fun is no longer available on our site due to unforeseen circumstances.
Please play at one of the other Byworth Bingo Rooms available. Thank you.
Playing the same old thing at Bingo Fun online would be virtually impossible anyway, unless you play 24/7. The best part is; if you wanted to play 24/7, you actually could! Bingo Fun never closes and is always open to fill your bingo loving needs. Bingo cards cost from 2 cents to 50 cents per card and you can play up to 100 at a time!
First time depositors get a Bingo Fun match bonus on their first deposit. Deposits after that are up for a 50% bonus at all times. Check out the weekly specials though, because there are days you can get better deals for reloading your account. You can buy-in with as little as $20.
Bingo Fun online runs on Byworth software which is always reliable, I don't think online bingo could be set up any better. The staff is amazingly friendly and on call at all times; if you need anything they are there ready to make you happy.
Bingo Fun also has a point system in which you make points to cash towards prizes, there's a load of things you can possibly take home. You can check them out on the website once you log in. Overall: Bingo fun online gets an A+ for effort!