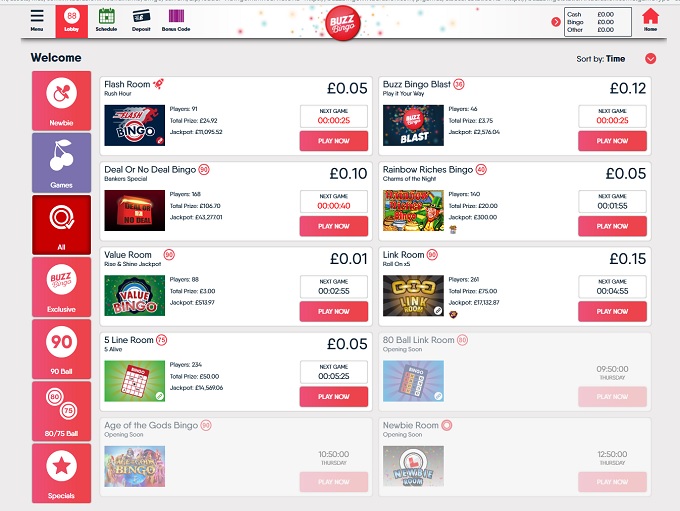 In the world of online bingo, you'll find that most of the top sites have a lot of things in common in terms of how they present themselves and what they have available. What makes a bingo room really stand out is when they go above the standard that has already been set, and we can see a lot of potential to make that happen in Buzz Bingo.
This room has a license to operate from the United Kingdom, which means you can expect them to be trustworthy with arbitration processes laid out in place ahead of time in case you have any type of issue. Likewise, they have been around since they first opened their doors in 2018 after a rebranding from Gala Bingo.
Bingo Software and Platform
The platform available for this room is provided by Playtech, a company that's been involved in the online casino industry for decades and that has a tremendous reputation. This software is set up in a way that players can log in from virtually any kind of computer as long as they have an updated Internet browser and an active connection.
Along these lines, there's a high level of flexibility since you can play from computers that run Linux, Windows or Mac operating systems. On top of that, mobile play is also available through your browser. A lot of their titles are completely optimized for mobile play as soon as you log in through your phone or tablet, and you won't have to worry about running into issues where the size of the screen is an issue because of this.
Online Bingo Game Selection
One area where this room stands out is that they have a deeper selection of bingo styles than most. The most popular games with 75-ball and 90-ball bingo can be found here, of course, but you'll also get the less popular 80-ball bingo in addition to the 40-ball Rainbow Riches game, the 36-ball Buzz Bingo Blast game and the 90-ball Deal or No Deal game. These are specialty titles that stand out as not being available just anywhere, so if you're a bingohead who wants to check out something fresh that you probably haven't seen before, then this could be a great option for you.
Slots and Casino Games
Since you're playing with Playtech software, you'll have access to tons of top-tier slots and other types of casino games. They're one of the top online slot companies running today, but you'll also get access to instant win games, online scratch-offs and a number of table games. Some video poker titles are included in this number as well.
What this means for players is that you'll never get bored since there's always something fresh and new to turn to if your favorites get a little stale. Everyone likes variety, and you'll find it to a serious extent at this room.
Banking Options
The main options available for deposits and withdrawals are Maestro, Mastercard and Visa. Even though this particular room hasn't been around as long as a lot of the competition, the fact of the matter is that they're connected to a well-known land-based bingo brand, and the new room is all a part of their rebranding. To this end, players will be able to trust in their ability to get withdrawals processed reliably and without any hang-ups, and that's a level of peace of mind that players are entitled to.
Support and Customer Care
Telephone support lines are available from 8 am through 10 pm in England. Likewise, the email option is always available, and the live chat messenger service is usually up and running. Most players will find that the telephone and live chat options get them help right away and that this makes them the preferred options. However, if you do have general feedback or just a general question that doesn't really need a response immediately, then the email method can be a strong alternative.
In Summary
Buzz Bingo has a whole lot going for it, and we'd like to look at a few key points to remember:
This site is a part of the rebranding from Gala Bingo, a brand with a strong history.
Playtech has put up several different types of bingo and a wide range of slots and casino titles for players here.
The United Kingdom license means that you can trust in what they have to offer in terms of withdrawals and fairness.
The support team is available 24/7/365 even though the telephone option itself has limited hours.
Overall, this site has a lot to offer players. If you're looking for the kind of bingo room that will offer so much that you aren't sure if you want to jump around anywhere else for a long while, then this one could be it for you.
By
Jesse Eddleman