Blackpool Bingo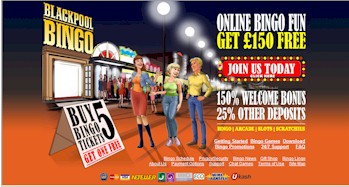 If there is indeed a "Las Vegas of the United Kingdom" it is Blackpool, and the UK-based Blackpool Bingo captures some of the Vegas spirit with plenty of diversions for the bingo enthusiast and beyond.
The site is a welcome destination for anyone seeking variety. In addition to 90-Ball Bingo, there are seven different slots games (Captain's Treasure, Chinese Kitchen, Cinerama, Fruitmania, Ocean Princess, Goblin's Cave and Jacks or Better) and 14 great arcade games, including Megaball, Keno, Jackpot Darts and Dice Twister.
Blackpool Bingo also has 27 different bingo chat games, all imaginative in their own way. One of my personal favorites is the "Blackpool Pub Quiz," where the chat host will ask trivia questions during the game, with "Bonus Blings" awarded for correct answers. But get this - even if you don't know the answer, you can win a Bonus Bling given at random if your answer is witty enough in its incorrectness.
Then there's Pontoon Bingo, which taxes the mind a bit, but is worth it. Here, you'll select three numbers, where the last digit of those numbers adds up to 21 (e.g., 18, 36 and 47). If you're three numbers all get called, you type out PONTOON in chat and win.
It's simple enough to get started with Blackpool Bingo. All one has to do is download the free software, digest the rules and register as a player. Before sitting down to play, the customer has the opportunity to "personalize" the game, allowing the adjustment of many features, including screen size, music, animation and more.
All game information is conveniently located at the top right corner of the game screen. Quick Buy allows the player to purchase multiple bingo cards while staying in chat. Mini-slots and scratch cards can be played simultaneously with bingo. Private chatting with other players is available.
Blackpool Bingo makes it well worth the player's while to jump aboard, too.
The bonus program is very straightforward and very generous. New players get 150% in their first deposit, up to 150 pounds (equal to $277.40 US). Players then get a 25% bonus on each subsequent deposit they make. Customers can open accounts by depositing through credit cards like Visa, MasterCard, Solo and Switch (the fastest, taking 2-5 minutes), as well as Neteller, Moneybookers, ECO Card, Click2Pay, My Citadel, uKash, bank drafts or wire transfers.
The chat hosts are extremely courteous end entertaining. All informational sections of the site are clean and clear, including the comprehensive Bingo Schedule and Bingo news sections. There is a also a reference page which fully explains chat language for bingo. Customer service is available 24 hours a day, seven days a week, through email and live chat, covering all customer concerns, including deposits, withdrawals, software and technical issues.
Blackpool Bingo has made a tremendous splash on the bingo scene, in the UK and elsewhere. After a trip to the site, it's no wonder why.