Bingonanza Bingo
Bingonanza is the most retro bingo site on the planet. Featuring graphics that will make you want to head out to the local diner, grab a milk shake and throw some change in the ol' jukebox, Bingonanza is a blast to play at. A blast from the past!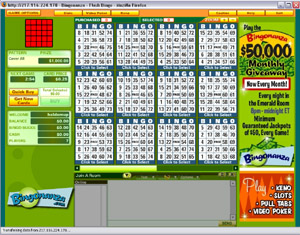 Bingonanza features three different bingo halls. The emerald hall is 75 ball bingo along with the sapphire room. The pearl room offers free bingo for those people new to the game or just wanting to play for free. The games are the same either way. Bingo features tons of patterns and special games for each card, you can view the schedule to see what's going to be played and when.
Bingonanza runs a fair amount of promotions, currently they are running a birthday cake eating contest. The more of the same pattern they have specified you get the more points towards the end prize you receive. This takes place in the emerald room, first place is $300 in cash and a $150 gift card, not to shabby! The sapphire chat room is also giving away a Brazilian aquamarine gold ring, all you have to do is win games and build points in the chat game.
Bingonanza doesn't just have bingo, there's everything from pull tabs and video poker, to keno and slots. A little bit of something for everyone. Funding your count uses the vepos service which interacts with a variety of online payment methods, chances are Bingonanza uses something you do too.
Saturday nights at Bingonanza are the best, if you have a favorite or lucky pattern you always win on you can request it. You can send an email with your favorite games to the site and if you get picked you'll get all your games played for one hour on Saturday night, what could be cooler than that?