Prime Backgammon
Backgammon is one of the oldest, and most popular, games in the world. It's a game of skill and luck played by two players on a single board with checkers and dice. The basic objective is to move or "bear" your pieces off the board before your opponent. If you're a backgammon enthusiast but have difficulty finding others to play with, then we have the perfect place for you. Welcome to Prime Backgammon, the # 1 destination for online backgammon for free or real money; where sit and go satellite, daily stars and daily tournaments take place, and you can play with others from around the globe.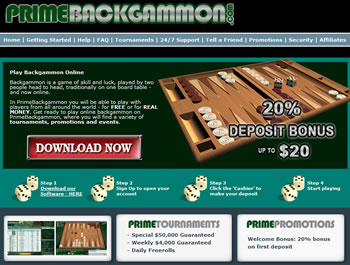 To help you get started, Prime Backgammon will give you a nice deposit bonus towards having fun with your online gaming in their rooms. From there it just gets better. You can test your skills head to head against other players or choose to enter daily and monthly tournaments with prize pools up to $50,000! You can also take advantage of their daily freerolls once you've accumulated enough stars through regular play. Be sure to check their site for future bonus changes.
In their daily tournaments players can put up an entry fee and have a chance to get hundreds in cash winnings with prize pools up to $4,000. There are special days set aside for the Grand tournaments. The following are their three types of backgammon tournaments offered;
Sit and Go Satellite; with entry fees for 8 player and 4 player tables, where certain placed winners get entries to their Grand online tournament usually held once a month.
Daily Stars Freerolls; where players make a buy-in with so many stars they have accumulated from their wins, and then depending on how they placed in the freeroll, can win nice cash prizes.
Daily Tournaments; where nearly anyone can join in with an entry fee, and go for the big cash prizes up for grabs in the prize pools offered for that day, in the different tournaments offered.
There are also areas for free play offered if you cannot play for real money or if you just want to sharpen up on your skills before you start your next backgammon tournament. They also have a Backgammon Help area if you would like to learn the rules of the game before you play. This is the best place to start if you want to have fun playing Prime Backgammon!
Players residing in the following US states are not allowed to play for real money: Arizona, Connecticut, Florida, Louisiana, Montana, Vermont or any other state or territory in which it is prohibited by law to participate or win any prizes.
Play online Backgammon games!
Since players are competing against each other instead of against the house, Prime Backgammon receives a commission on games played. The commission is minimal and based on the final winning sum. A web/Java non-download version is also available for those using a different operating system. System Requirements; Windows XP, 2000 or higher.