Play Backgammon Online
There are quite a few people who play backgammon, as one of the oldest games in history, and you will find some of the places they play online backgammon here at Games and Casino. Before you start playing be sure to read up on the rules and strategy for playing backgammon, to give you an edge while in competition with other players, as you play online for money and prizes.
Play backgammon now or read the backgammon rules before you decide to play.
Backgammon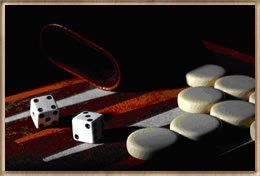 The game of backgammon is more than 5,000 years old. It is one of the world's oldest games.
In this fascinating game you try to bring all your checkers to your home board, and then you move them off the board entirely. If you are first to move all your checkers off the board, you win.
Backgammon is not hard to learn to play, but it never stops posing a challenge.
Playing backgammon online is pretty much identical to playing it in your living room. One difference is that online you meet new people from all over the world, or you can play with buddies of yours from all over.
Backgammon Games Directory
Amoung the many online Backgammon sites to play the game, the sites that are mentioned below are recommended by Games and Casino to be best suited for your backgammon gaming needs.
In the links below you will find most of the answers to your Backgammon questions, brought to you through extensive research, by Games and Casino. The answers you cannot find are usually found by a hands-on experience of playing the game.
Backgammon Rules & Strategy Reviews
If you are new to the game of Backgammon and the above information is a bit complicated, try the Backgammon Game Information below, perhaps you can find the quick answer there.
Backgammon Game Information
I am new to Backgammon. How can I learn?
You will find a link to the Backgammon school. There you can play with a tutor. You will learn when to double and what the best moves are. The tutor will correct your mistakes and rates your moves.
In backgammon school you will learn to win more money!
Play Backgammon for play money!
This is great fun and you will learn and become more skillful. Soon you will understand how it all works and you will be ready to make some money with your play!
Play Backgammon for real money!
After you deposit some money you can decide to either join an existing table or start up a new one. Whichever you choose to do, the winner gets to take the money after paying a small mount to the house. What about Backgammon Tournaments? There are two types of tournaments available: Sit & Go tournaments start when the required number of players register. Sit & Go BackGammon tournaments at Play65™ are easy to play and easily won. Join tournament and begin to play. Buy-ins range from a minimum of $5 (with a $1 entry fee) to a maximum of $200 (with a $15 entry fee).
Event Backgammon tournaments begin when a predefined date and time is viewed on the Software.Join the tournament and begin to play!!!
What if I don't like to play whole backgammon tournaments?
There are two other ways to play Backgammon online, match games and single games.
Backgammon Match Games: Match games are sort of like tournaments. They are a number of games between two players. The tournament ends when one of the players wins. This happens when the player achieves a predetermined number of points. The number of points is found by multiplying the doubling cube value by the win type (winning by a gammon is worth 2 points, winning by a backgammon is worth 3 points).
Backgammon Single Games: This is the usual way people like to compete. You play one game at a time. The loser pays the winner the agreed initial stake multiplied by the value of the doubling cube and further multiplied by the win type (two for a gammon or three for a backgammon).
Is there a way to limit the time for each backgammon game?
Two kinds of timers are employed in online backgammon. One Timer is for the moves- this one indicates the time left to make a move. After each move this timer starts over. Once it expires, the global timer starts up. The global Timer only runs when the move timer has stopped. The global timer is measures all of the game. If you cause the global timer to stop, you lose the game no matter what.
What if I get disconnected while playing backgammon online?
You have 5 minutes to reconnect and get back into the game. Just log in again and the game you got disconnected from will continue. If you don't come back in 5 minutes, the game is evaluated and the money is split.