PartyGammon Backgammon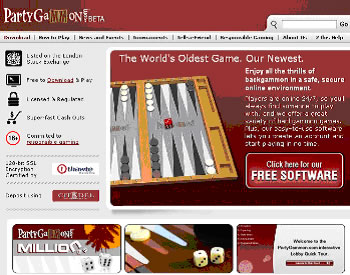 PartyGammon brings players together from all over the planet, to play in the age-old spirit of backgammon competition, with tornaments and sit-and-go's!
If you're new to backgammon, or just interested in how to play, Partygammon has a backgammon school available to get you familiar with the game.
PartyGammon has scheduled tournaments and sit-and-go's that are available for new players, as well as the more experienced backgammon players.
You can play for fun or with a friend, or if you prefer, there are players online 24 hours a day at PartyGammon looking for some good competition.
PartyGammon Backgammon offers a signup bonus, monthly promotions and special events. The software requires a download, and customer service is available for any problems or questions 24 hours a day, 7 days a week via email, telephone or live chat.
PartyGammon online backgammon deposits can be made through their preferred deposit methods, so be sure to check their website for a complete listing.
PartyGammon online backgammon, licensed by the Government of Gibraltar, operates on a Windows operation system, and available currencies include US Dollar ($), Canadian Dollar (C$), Euro (€) and Pound (£).