Tens or Better Video Poker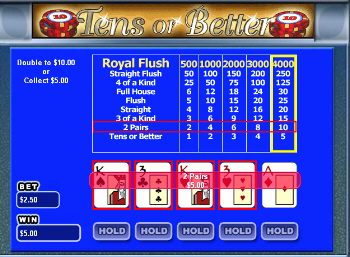 Tens or Better Video Poker is the very basic video poker game that recognizes 10's as a winning combination.
There are no wild cards; it's your basic 5 card game with payouts for pairs of 10's or better, 2 pair, 3 of a kind, straight, flush, full house, four of a kind, straight flush and royal flush.
The coin denominations are 25¢, 50¢, $1, $5 and $10. Select the coin denomination and quantity you want to bet for each hand. Payout for a royal flush on maximum bet is 4000 coins.
The best bet for your playing dollar is a max bet (5 coins) on any coin denomination.
The game begins with 5 cards being dealt face up. 2 to 4 decks of 52 cards each are used to play this game. Hold or discard to make the highest winning hand from the 5 starting cards and then draw to complete the game.
Only the highest combination is paid out on each hand and the deck is re-shuffled before a new game begins.