Double Double Bonus Video Poker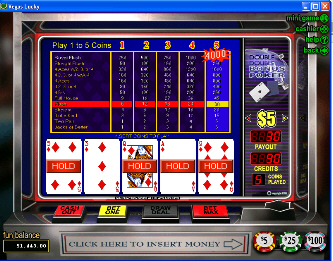 Double Double Bonus Poker is a 5 card poker game that awards a higher payout or Bonus for special combinations. This amount is double that of the Double Bonus Poker game. Bonus payouts are made on 3 different sets of four of a kind - four 5's-K's, four 2's-3's-4's, and four Aces.
The pay table starts at Jacks or Better. Winning combinations are pairs of Jacks, Queens, Kings and Aces, two pair, three of a kind, straight, flush, full house, four 5's through Kings, four 2's, 3's and 4's, four Aces, straight flush, and a Royal Flush with the highest payout of 4000 coins for the Royal Flush.
The higher the difficulty the higher the payout..
A deck of 52 cards is used and the deck is reshuffled each hand. You can bet from 1 to 5 coins per hand and you have 5 coin denominations to choose from: 5¢, 25¢, 50¢, $1 and $5.
This is a single hand game. You are dealt 5 cards face up. Hold or discard to make the highest winning hand. The best payout is playing max. A Royal Flush on one coin pays 250 coins but a Royal Flush on five coins pays 4000 coins.