Multi-Hand Double Joker Video Poker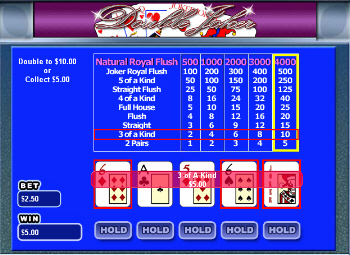 Up to 4 times the wild cards are available in this multi-hand version of Double Joker Video Poker! You can choose to play 2, 3 or 4 hands using coin denominations of 25¢, 50¢, $1, $2 or $5 and up to 5 coins per hand.
Double Joker Video Poker offers 5 wild cards in this game which also offers a top payout of 10,000 coins if you're playing maximum bet.
This game uses from 2 to 4 decks of cards and each deck has 53 cards including one joker and all of the deuces and the joker are wild. You're dealt 5 cards and you hold or discard as many cards out of the 5 as you like to make a winning hand.
The cards you hold in the original hand are also held in the other hands. Replacement cards are dealt to each hand from their own decks as well and payouts are made on straight, flush, full house, 4 of a kind, straight flush, 5 of a kind, wild royal flush, 4 deuces, natural royal flush and 4 deuces and a joker.
Even though you're playing multiple hands, the maximum bet rule for the top payout still holds. You have to be playing maximum bet to win 10,000 coins for a joker and 4 deuces. If you aren't playing max bet and get all 4 deuces and the joker, you don't get top pay.
You're paid for 5 of a kind only. So if you like playing this game, make very sure you're playing maximum bet!