Mega Multi-Hand Deuces Wild Video Poker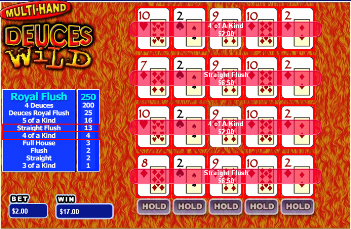 There is so much I like about this game. First, Deuces Wild Video Poker is my favorite video poker game. Second, the mega multi-hand version of this software lets you choose to play 10, 50 or 100 hands of the game.
Third I love the way the game board is displayed. Usually the board is so crowded you have to depend on the side bars to tell you how many hands had winning combinations and the total payout.
In this version, you can place your cursor over the completed hand and it will open a small window and zoom in on the hand making the cards clearly visible. You still get the bar on the side to tell you how many of what combinations were hit, but this feature lets you see them if you want.
If I get a royal flush, I want to be able to see it!
The coin denominations change for this game, ranging from 1¢, 5¢, 10¢, and 25¢.
The winning combination rankings remain the same: 3 of a kind, straight, flush, full house, four of a kind, straight flush, 5 of a kind, wild royal flush and royal flush. The payouts are also the same.
2 to 4 decks are used each hand and 5 cards are dealt at the bottom of the grid. Hold as many cards as needed to make the highest winning combinations. Cards held in the first hand are also held in the other hands played that game.
Replacement cards are dealt to each hand from their own decks. High payout for this game is 4000 coins for a royal flush on maximum bet.
Try this game. It gives the large multi-hand video poker games a much needed boost. You'll love the way it plays.