Joker Poker Multi-Hand Video Poker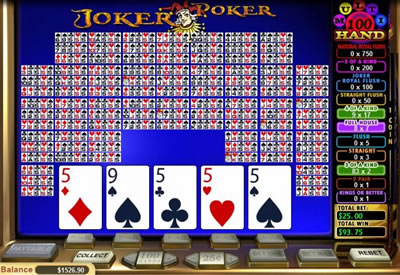 Joker Poker multi-hand video poker gives you a choice of playing 10, 50, or 100 hands of cards, with a 53-card deck, choose .01 to .25 credits and one to five coins per hand! So that means you can play 10 hands of video poker for ten-cents, or as much as $125 per game.
Vegas Technology takes its video Joker Poker up several notches with the introduction of Mega Multi-hand Joker Poker 100-hand video poker. Play 10, 50, or even 100 Joker Poker hands at a time for as little as a penny apiece.
The most important thing you can do is to take a look at the pay table and determine how you like the payouts for each winning hand. After all, as wonderful as all of those cards may be—they're only beautiful when they're paying winners.
Joker Poker 100-Hand Video Poker Wagering.
To play Vegas Tech's Mega Multi-hand Joker Poker video poker, you'll have to select your wager. Several options are available to you in terms of the size of your preferred hand (10, 50, or 100 hands) and the size and number of coins you want to play. Coins range from $.01 to $.25, and you have the option to play up to five coins on each hand.
You can imagine, especially with 100 hands, that things can add up rather quickly, and it doesn't take much to max out on the $125 per game bet. Minimum bet starts at $.10 (that's $.01 for the minimum of 10 cards) if you're looking for something a bit more manageable.
Mega Multi-hand Joker Poker is played with a 53-card deck for each hand you choose to play. This is why your odds aren't that impacted.
There's something to be said for taking one hand at a time, and some diehard video poker players are set against the multi-hand poker games.
Yet even the staunchest of players will admit that it sure is satisfying to see a good hand get even better one hundred times over, especially when they are all lined up like little troops happy to salute you with a Full House or a Natural Royal Flush or 2 Pair (hey, I'm not picky—a win's a win).
Play Joker Poker Mega Multi-Hand video poker games today!