Jacks or Better Multi-Hand Video Poker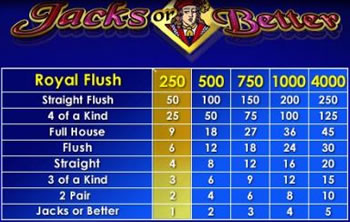 Jacks or Better multi-hand video poker has an option to play 10, 50, or 100 hands of cards, a 52 card deck with a choice of 1-5 coins and .01 to .25 credits per hand! Jacks or Better 100-hand poker is an online video poker game and gives players a choice of playing for only a penny per hand, or as high as $125 at max bet.
If one hand is good, then 100 hands must be flippin' fantastic, right? While some of the poker statisticians may disagree that more is better in terms of odds, they can't argue with the fact that seeing 100 hands of Jacks or Better poker all laid out in several rows isn't a beautiful thing.
Jacks or Better 100-Hand Video Poker Wagering.
If 100 hands seem a bit daunting, you do have the ability to play 10 hands or 50 hands as well. That being said, minimum bet in this Mega-Hand Jacks or Better poker game is $.10 (at a penny per hand in a 10-hand game). If you go all out and play the largest coin of $.25 on all 100 hands, and play the maximum 5 coins per hand, you're looking at a $125.00 per game wager.
However steep your wager, Jacks or Better video poker isn't immensely popular for nothing. It's been known to have the best player odds on the web, regardless of how many hands you play. Vegas Technology's Mega Multi-hand Jacks or Better video poker is a great game for the uber-multitasker; after all, when else can you do 100 things at the same time—and come out ahead?
Those who play a lot of Jacks or Better video poker know that this game is as simple as it gets in the video poker world. There are no wilds or gimmicks, just a straight poker game where a pair of Jacks is where the winning begins. Vegas Technology takes that simple premise and explodes it into the ability to play a hundred hands at the same time.
Play Jacks or Better multi-hand video poker to bump-up your online poker experience!