Deuces Wild Online Video Poker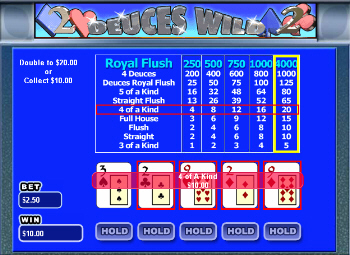 Deuces Wild is my favorite version of video poker. It's played with one deck of 52 cards and all deuces are wild. Because the wild cards lower the odds on getting the higher ranking combinations, the pay table is adjusted and more combinations are added.
Winning combinations are 3 of a kind, straight, flush, full house, four of a kind, straight flush, 5 of a kind, wild royal flush and royal flush.
Choose the coin denomination you want to play ranging from 25¢, 50¢, $1, $5, and $10. You can play up to 5 coins per game. Payout for a Royal Flush on maximum bet is 4000 coins.
The best bet for your playing dollar is a max bet (5 coins) on any coin denomination.
The game starts with 5 cards being dealt face up from one deck of 52 cards. Hold or discard to make the highest winning hand. Remember the deuces are wild! Then draw to complete the game.
Only the highest combination is paid out on each hand and the deck is re-shuffled before a new game begins.