Jacks or Better Video Poker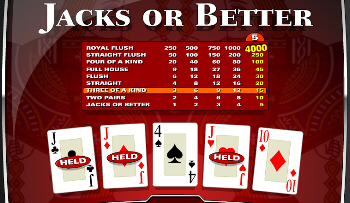 Jacks or Better is usually the game standard that other variations of video poker are based on. Payout rates are figured beginning with pairs of Jacks or better, two pair, three of a kind, straight, flush, full house, four of a kind, straight flush, and Royal Flush.
On the deal you get 5 cards face up. Hold or discard to make the highest winning hand. The coin denominations for this game are: 1¢, 5¢, 25¢, $1, $2, and $5. You can play as little as 1¢ or as much as $25 a hand. There are no wild cards in this game. The highest ranking hand is a Royal Flush which pays out 4000 coins on maximum bet.