5 Card Mulligan Video Poker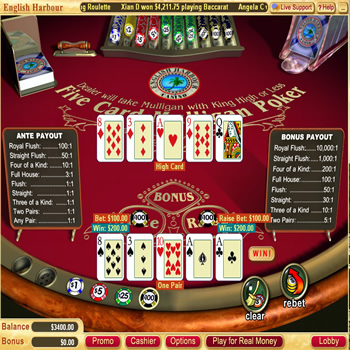 If you're a golfer then you know the benefit of getting a mulligan. If you're not familiar with this, a mulligan is basically a "do over".
Too bad everything in life doesn't grant you a mulligan. "Judge, I know I haven't paid my taxes in 10 years so at this time I'd like to cash in my mulligan!"
Five Card Mulligan uses this concept in a 5-card stud poker game. After placing your initial bet (ante), and a bonus bet of $1 - $25 that significantly increases the payout if so desired, you and the dealer are each dealt 5 cards.
If you like the initial 5 cards you are dealt then you can choose to play your hand if you believe the odds are in your favor. If you don't like the initial 5 cards you are dealt then you have a choice to discard your cards for 5 new cards (mulligan)! By choosing the mulligan option you essentially double your ante (raise) but any bonus bets will be lost.
Five Card Mulligan Poker is played using a standard deck of 52 cards with Jokers removed. The minimum bet is $1 and the maximum is $100.