Bonus Video Poker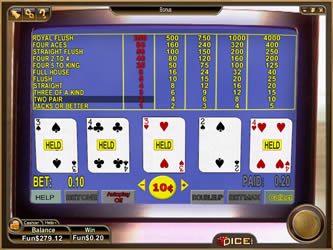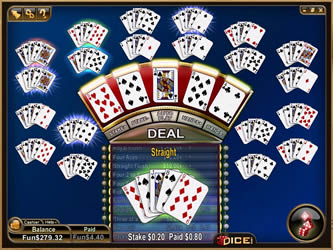 Bonus video poker is based on the elevated payouts given to Four-of-a-Kinds. In both the single-hand and multi-hand versions, 3Dice Casino's Bonus Video Poker pays out 80:1 for Four Aces, and as much as 40:1 for Four 2s, 3s, or 4s.
In the classic, single-hand game, wagers will range from $.10 to $10.00, based on the coins size ($.10 to $2.00) and number of coins (1 to 5) played per hand. The multi-hand format of Bonus video poker determines the stakes by coin size ($.05 to $2.00) and number of hands played (5 to 50), for a table bet range of $.25 to $10.00.
Playing Bonus Video Poker.
Strategy is foremost when you want to come out ahead in video poker (and we're assuming that's why you're playing). While the nature of video poker is the nearly the same across the board, in a game like Bonus video poker, where getting Four-of-a-Kind is the hidden name of the game, it's wise to familiarize yourself with strategy advice as well as the game's pay table.
To help you, the 3Dice software will automatically hold cards in your hand based on its own strategy tables. You can certainly choose other cards to hold and replace by selecting and "de-selecting" them. If you tend to trust the house software, you can also choose the auto-play feature, which can be customized to your specifications.
Single-hand play offers an additional game of "Double Up", which you are eligible to play with every win. It's a game that gives you the opportunity to double (and double and double) your winnings by selecting which face-down card is higher than the exposed card.
The multi-hand format lets you play from 5 to 50 cards at a time, usng the same basic rules and pay table as the classic, one-hand version. Some argue that the strategy changes with the addition of hands and decks, and some play the game as a "shotgun" approach to poker. How you play, however, is up to you.
Bonus Pay Table.
As mentioned earlier, Bonus video poker offers a higher payout percentage to all Four-of-a-Kinds. Here's a quick look at what the multi-hand pay table and the one-coin classic pay table offer:
Four Aces pay 80:1
Four 2s, 3s, and 4s pay 40:1
Four 5s though 4 Kings pay 25:1
You'll need Jacks or Better to get paid at all in this game, so select your hold cards accordingly. Royal Flushes get the 3Dice standard of 250:1, and it will pay a maximum of 4,000 coins with a 5-coin bet in the single-hand game.
You'll find that 3Dice Casino has several Bonus pokers to choose from, play them all!