Trust Fund Baby Online Progressive Slots
A 5 Reels 20 Payline Progressive Slot Machine
If you can't have a Chihuahua in the laps of luxury, you might as well make these icons of the rich and famous work for you. Powered by silver spoons and Wizard Gaming, Trust Fund Baby is a 5 reel 20 payline progressive video slot that features wilds, scatters, and a jackpot that just keeps growing. Kind of like a trust fund.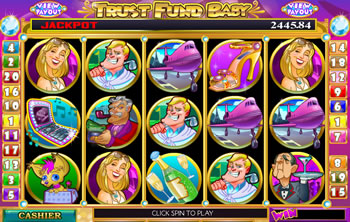 Win the Trust Fund Baby progressive jackpot!
If you ever wanted a pony for your birthday, chances are there's a trust fund baby who actually got one; along with a Yacht, a Private Jet, a Limo, and Diamond Necklaces. Pay particular attention to the Butler wild and the Champagne scatter. Soon you may be a Trust Fund Baby, too!
The Trust Fund Baby online progressive slots wagering, where the 0.02 credits coin amount is fixed, but you have a choice of playing 1 to 10 coins per line, so your maximum bet per game is 4.00 credits. All Trust Fund Baby slots symbols pay from left to right except the bottle scatter symbol, which may pay anywhere.
A note about the progressive jackpot: The amount of the progressive jackpot is displayed at the top of the game.
You'll need to bet the maximum to qualify for the progressive payout, otherwise the payout is 2000 coins.
The Wild Symbol in Trust Fund Baby Progressive Slots:
The Butler symbol is the Wild symbol.
The wild Butler substitutes all symbols except the Bottle Scatter.
The Butler can bring you anything you ask for--in particular, the progressive jackpot!
When five Butlers line up their upturned noses on a payline--and you bet the max bet--you score the progressive jackpot!
Unlike other symbols, the Butler wild symbol will pay out with two sequential symbols on reels 1 & 2, but only if it is a higher payout than any other combination on that payline.
The Scatter Symbol in Trust Fund Baby Progressive Slots:
The Champagne Bottle symbol is the Scatter symbol.
Three or more Scatter symbols appear on any reels and do not have to be on a payline to pay out.
Scatter wins pay as follows: 3 Champagne Bottle symbols triple your bet, 4 Champagne Bottle symbols multiply your bet by 20x, and 5 Champagne Bottle symbols multiply your bet 200x!
Grab your Chihuahua and your cell phone bling and place your manicured hand on the spin button. You're in for a wild-and completely chauffeured--ride playing Trust Fund Baby slots!
Play Trust Fund Baby Progressive Slots at the Following Recommended Casinos