Sweetheart Online Slots
You don't have to be sweet to play Sweetheart online slots game, but before you know it you will be, after all the fun you will have playing in its heart-filled slots. A player has the chance to win one of the two jackpots with roses or presents in these Boss slots.
Sweetheart
Sweetheart - 3 reel, 3 pay lines.
Coin size ranges from 5 cents up to $1.00. You can play from 1 to 9 coins per line.
Be sure to play 3 lines for best results.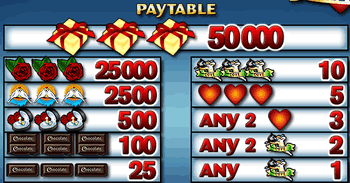 Hit 3 Rose symbols to win the jackpot of $25,000.00 on a $3.00 bet!
Hit 3 Present symbols win $50,000.00 on a $3.00 bet!
Sweetheart slot has great graphics, and animations.
Hit the big one and take your sweetheart on a cruise!
Find your credits in more than just hearts by playing Sweetheart online slots today!