Spin Monsters Online Slots
Play Spin Monsters Slots at the Following Recommended Casino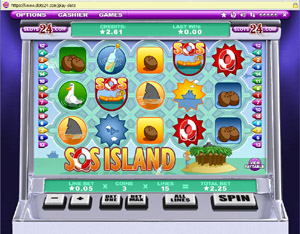 Spin Monsters is a 5 reel video slot with all the fixings of a 5 year olds nightmare. Accompanying the 5 reels are 15 paylines on which you can bet up to 3 coins per line. You can also choose to make your coins valued from 1 cent all the way up to a dollar. Obviously the more coins you bet the more you can win. The more lines you play, the greater than chance you have of winning.
To play first off you select your coin size, coin amount, and how many lines you want to play. To play all lines you can just click the all line button, if you want to play only a few you can manually select them. Your total bet amount will change accordingly. Once you're set just click spin, if you win your combination will be lit up and the amount won will be displayed. It will then go to the last win box where you can keep track of how much money you have.
Scatters are available and the biggest pay out on the board. Five scatters will pay you 5625 coins. The rest of the payouts on Spin Monsters aren't too monstrous, you can check all of these on the payout table. There are lots of options to win here!