Space Tale Online Slots
A 5 Reel 9 Payline Slot Machine
Whether your poison is Star Trek, Star Wars, Firefly or Battlestar Gallactica; Space Tale slots space-themed slot is bound to give you your science fiction gaming fix. With 5 reels and 9 pay-lines, a jackpot, bonus rounds, free spins and wild symbols, you're in for a next-generation adventure in skill and luck.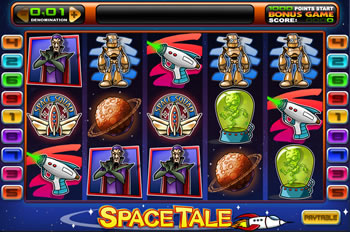 Win Free Spins, Trigger Bonus Round or Hit the Jackpot!
The Space Tale online slots symbols are a mixture of monsters, robots and humans on the reels, with laser guns and spaceships to help players collect a little galactic treasure. Check out the information below to see what kind of adventures await you in this Space Tale slot game.
The Space Tale wagering; choose from the ranged coin amounts of 0.01 to 1.00 credits per line with a maximum bet of 150.00 credits per game. All symbols pay from left to right except free spin and bonus symbols which may pay any.
Space Tale Slots Wild Symbol
The Green One-Eyed Monster is the wild.
The wild symbol substitutes for all symbols except Bonus, Jackpot and Free Spins symbols.
Space Tale Slots Jackpot Symbol
A group of ruby-colored Crystals Jackpot is the jackpot symbol.
Win the Jackpot by betting the max credits per line and landing 5 of the jackpot symbols on a pay-line.
Space Tale Bonus Points Symbol
The Spaceship is the bonus symbol.
150 bonus points are received for each Spaceship symbol that appears.
With every 250 bonus points, a choice must be made; which captain, which ship and which route you would like for the mission.
The Space Tale Bonus Round is triggered when 1,000 bonus points is reached.
Space Tale Slots Free Spins
The Free Spins feature is triggered when 3 or more Planet symbols appear on the reels.When 3 Planet symbols appear; 8 free spins are awarded. After 4 Planet symbols appear; 15 free spins are awarded.
When 5 Planet symbols appear anywhere on the reels, 30 free games are won!
Space Tale Slots Bonus Round
When 1,000 bonus points have been reached, the Bonus Round is triggered.
A new screen will appear with your spaceship, the keyboard controls and badge level at the bottom and the stage of the game, shield and weapon strength at the top.
Use your keyboard controls to shoot at enemy ships and asteroids in your path.
When your spaceship is shot down before your mission is complete, you will have a chance to shoot at aliens to collect a bounty for the mission completed thus far.
Win 10,000 coins when you reach mission control.
Navigate through cosmic catastrophes to get the benefit of the extra points, wild cards and free spins. Space Tale has a convenient Auto play feature, which allows you to play up to 100 consecutive spins using the same bet.
Go where no one has gone before, or at least where you haven't gone before, try Space Tale online slots today.
Play Space Tale Online Slots at the Following Recommended Casinos