SOS Island Online Slots
Play SOS Island Slots at the Following Recommended Casino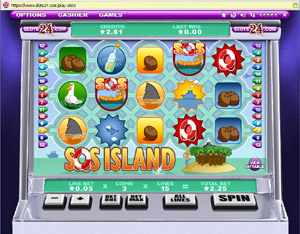 SOS Island is a 5 reel video slot offered by Slots 24. You can bet up to 3 coins valuing from 1 cent up to a dollar. There are 15 paylines open for betting, you can choose to bet all of these or pick as many up to the 15 as you want. The more you pick the greater the chance you have of winning since there are patterns that span all reels and lines.
SOS Island's audio is simple but fun, you can hear everything from waves and seagulls. There is even a big boat horn. . You can change the volume on all of this under options, just click the sound tab. From options you can customize the speed and game color also.
If you need to deposit more funds you can easily do so by click on the cashier. If you make a wager that is to large the game will automatically prompt you to do this anyway, you can choose to cancel and place a smaller bet if you like. The top pay out on SOS Island is 5 palm trees, this will pay out 7500, almost enough to buy your own little island depending on your bet! To check out the other winning combinations of symbols you can click on the view payout table button. Overall SOS Island is a venture worthy of your time, give it a go.