Aurum Signature Studios Slots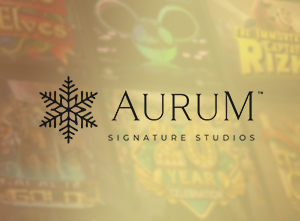 Aurum Signature Studios produces slots that are very much in the high-end when it comes to quality. Why and how is this? There's been a trend lately amongst iGaming companies where small studios sprung up with the sole aim of producing exclusive games. The entire industry is by now several decades old, so this is quite natural when you consider that there's not that much space for such phenomenal growth that giants like Microgaming and Net Entertainment professed in the first few years.
So rather than challenging the established order, the company is doing something completely new. This hasn't gone without notice, as Aurum has in fact entered a partnership with Microgaming, becoming one of their first gaming studios to provide exclusive gaming.
Let's take a look at what that means in effect.
Audio, graphics and gaming
Creating bespoke slots is no easy task. Whilst there are thousands of online slots available, via hundreds of online casinos, very very few slots are only available on a single casino. This sort of exclusive gaming obviously requires a ton of effort, as the games need to stand out amongst all other games.
How does Aurum Signature Studios reach this quality?
They bank on all their expertise to produce incredible audio effects, music that stands out, graphics that will look and feel good on all platforms from desktops to mobile devices, and obviously with the sort of gaming that isn't just something that you've already seen many times over.
Take something old and add something new
One of the surprising things about the company is their ability to use their small team as the core on which they add the expertise, knowledge and know-how of their partners. This means that they can build the framework based on outside influence, which shows up for example in widely different themes and graphical styles. Rather than being a hindrance, it's a considerable strength that has already resulted in some amazing slots.
Features, paylines and wins
Is it just graphical and musical skills that makes these slots stand out? Not at all. The real reason that companies are ready to enlist Aurum Signature Studios to produce bespoke slots resides in their skill in coming up with wildly different slots when it comes to different mathematical setups.
So far, we've seen the company use both normal paylines and all ways pays. Though they mostly stick to the 5x3 reel format, that's no guarantee that things wouldn't change in the future. The paylines and ways to win come with a lot of different volatility settings, ranging from very low to very high.
But it's really the slot features that are going to get you going. Wilds take several different forms, from simply substituting for other symbols to adding multipliers, super symbols and random effects on the reels. Bonus wheels, bonus spins and different reel modifiers are a given too. Stacked symbols, bonus progression and many other features are available in substantial numbers on almost all of their games. Take a look!
Slots