Skool Daze Online Slots
A 5 Reel 9 Payline Slot Machine
Skool Daze is more than just a 5 reel 9 payline video slot from Wizard Gaming, it's full of wilds, scatters, and a jackpot worth 3,500 coins! If someone bet me 3,500 coins for a chance to conquer high school again, I think I'd take the challenge (well, maybe if I could be one of the cool kids this time around).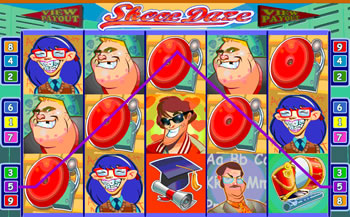 Win the Skool Daze 3500 coin jackpot!
Skool Daze slots is another one of Wizard Gaming's high-variance slot games, so you may have to be patient (alas, just like high school). And that you don't have to worry about a curfew anymore. Don't forget though, the payouts will be from left to right, except for the lady scatter that may pay anywhere.
Skool Daze online slots coin sizes range from $.01 to $.50, so your minimum bet can go as low as $.01 with one coin or $45.00 with 10 coins if you're playing like you have a trust fund.
Payouts go from left to right in Skool Daze slots and you'll need at least three of a kind to score any payout (except for the Wild, you'll only need two Wilds to win the minimum).
Before you take a spin on this Skool Daze slots game, take a look at the pay table and see if you can identify your high school persona with one of the symbols.
Did you put out winnings like the Varsity Jock Wild (up to 3,500 coins) or did you, like the Smiling Cheerleader, rile up the crowd on the sidelines (for up to 500 coins)? Carry the Football Championship Trophy (for up to 500 coins)? Or maybe you were a fan of the Band (for up to 250 coins)?
If you're looking for symbols that pull an all-nighter, keep an eye out for the Varsity Jock Wild and the Smokin' Hot Lunch Lady Scatter (sorry, I couldn't resist). Both are further described below.
Wild Symbol in Skool Daze Online Slots:
The Varsity Jock symbol is the Wild symbol.
The wild Jock appears on all reels and substitutes for all symbols except for the Lady Scatter.
It does not multiply your bet. Get five on a max-bet payline however, and it will pay out the 3500 coin jackpot! (Translated: Bet 10 coins on all lines and win $17,500!)
Scatter Symbol in Skool Daze Slots:
The Smokin' Hot Lunch Lady symbol is the Scatter symbol.
Three or more Lady scatter symbols pay anywhere on the 5 reels.
Three or more Lady Scatters will trigger additional winnings (from 2x, 8x, and 120x your bet), all added on top of your other payline wins on that spin.
Regardless of who you were, this game pays out like high school--Jocks, Cheerleaders, and Sports all come out with high marks. Thank goodness it doesn't matter where you are on the totem pole anymore-now you can take advantage of all the winnings!
Grab your retainer or your letter jacket (or both) and head to Skool Daze online slots!
Play Skool Daze Online Slots at the Following Recommended Casinos