Reeltime Gangster Online Slots
Play Reeltime Gangster Slots at the Following Recommended Casino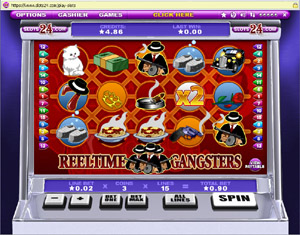 If you enjoyed the Godfather and you like gambling, you'll love Reeltime Gangsters. This game features all the things that make the mafia the mafia, everything from concrete shoes to baseball bats. Reeltime Gangsters is a 3 coin slot machine with 5 reels and up to 15 pay lines. You can bet up to 45 coins per spin and have 8 possible patterns to win on if you bet all pay lines. Each payline has a multitude of possible winning combinations.
Reeltime Gangsters doesn't have scatters or wilds. Since neither of these is offered there are more reasonably high symbols to win on instead of just one giant symbol and a bunch of small top prizes after that. Gangsters constitute one thing when it comes to reel symbols, smoking spaghetti, smoking guns, and smoking cigars! Smoke screams gangster I guess. Jokes aside you can win some large jackpots including 7500 for hitting 5 crates on max bet, not too shabby.
As with the other slots, game play is customizable. Just click options and change the speed or color of the game box to your liking, you can also adjust all of the sound settings. All of the buttons for betting are simply displayed along the bottom row and are very self explanatory. To switch your payline bets you can just click on the numbers and deselect or select as many as you want, your bet amount will change accordingly. Reeltime Gangsters is one of the most fun slots on slots 24 and has some of the most consistently high jackpots.